Boeing has no date in mind for ending production of its 737NG for conversion into military derivative models, as the P-8 Poseidon and E-7A Wedgetail variants continue to attract customers.
"The P-8 is operating very well, and the E-7 is coming online in quantity," says Dan Gillian, Boeing Defense, Space & Security vice-president and general manager mobility, surveillance and bombers. "We have plans to build P-8 and E-7 well into the next decade and beyond – as long as the market demands those platforms."
Noting that Canada is the latest nation to have announced plans to acquire its maritime patrol aircraft, with interest in 16 examples, he says: "We will continue to see countries come forward and want to buy the P-8".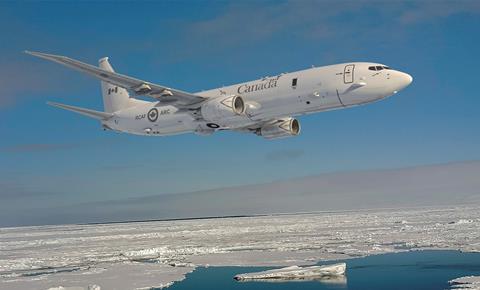 "I think we'll [also] see demand from existing customers for additional aircraft, because it performs so well and because the mission it does is really important for the threat of today and tomorrow."
Speaking to FlightGlobal at the Royal International Air Tattoo at RAF Fairford in the UK on 15 July, Gillian also said the UK's first of three E-7A airborne early warning and control aircraft is on track for delivery "towards the end of next year".
All three of the Royal Air Force's aircraft are undergoing conversion to the Wedgetail standard with STS Aviation Services in Birmingham, the UK.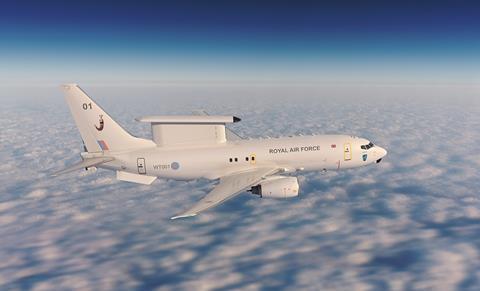 The US Air Force (USAF), meanwhile, has committed to buying the lead two E-7A airframes from a planned 26-aircraft acquisition. The Wedgetail will replace the service's Boeing E-3 airborne warning and control system (AWACS) aircraft by 2032.
"The community of E-7 operators is growing – NATO is expressing interest in recapitalising its [AWACS] fleet, so this is just the beginning of what the E-7 will become," Gillian says. The surveillance aircraft is already in service with the air forces of Australia, South Korea and Turkey.
Similarly, deliveries of the 767-derived KC-46A tanker are due to continue until at least the end of this decade for the USAF via a 179-aircraft purchase, and he sees potential for follow-on business with the service and with international buyers. Boeing so far counts Israel and Japan as Foreign Military Sales customers for the Pegasus.
"For the KC-46, we're really at the beginning," Gillian says.

Craig Hoyle joined Flight International in 2003, and has edited the now monthly title since 2015. He has reported on the UK, European and international military aviation sector for more than 25 years, and produces our annual World Air Forces directory.
View full Profile