The Polish and US governments have signed an agreement for the supply of five ex-US Air Force (USAF) Lockheed Martin C-130H tactical transports to Warsaw.
Finalised on 12 April, in the form of a grant via Washington DC's Excess Defense Articles programme, the deal is valued at $14.3 million, with this covering the cost of aircraft regeneration and retrofits.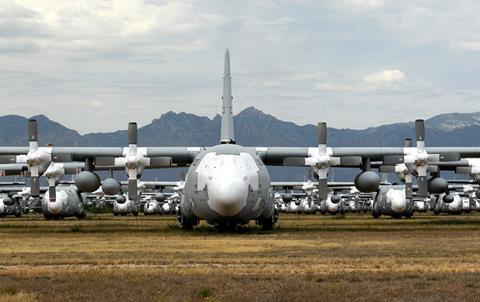 Polish air force representatives assessed the technical condition of the stored Hercules during a joint inspection at the 309th Aerospace Maintenance and Regeneration Group site at Davis-Monthan AFB in Tucson, Arizona. The USA has valued the transports as worth around $60 million.
Warsaw's first reactivated C-130H should arrive in Poland this year, with its air force due to receive the four other examples by mid-2024.
Before their commissioning into service at the 33rd Transport Aviation Base in Powidz, the transports will undergo programmed depot maintenance at the WZL 2 plant in Bydgoszcz. During this process additional Polish air force-specific equipment will be installed.
The surplus C-130Hs were manufactured in 1985, and ended USAF service in 2017.
The airframes are 15 years younger than the E-model Hercules currently operated by the Polish air force.
Warsaw acquired five C-130Es via a US government Foreign Military Financing loan. The aircraft each received a replacement centre wingbox prior to their re-introduction by the European nation. Also counting logistics support, spare parts and personnel training services, this acquisition had an estimated total cost of $165 million.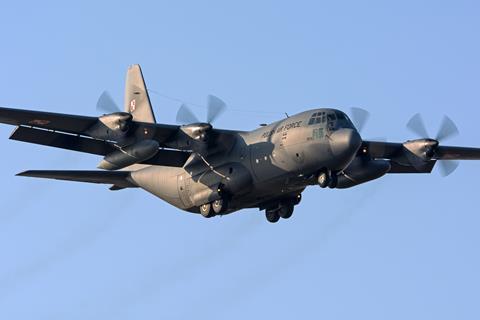 The Polish air force took delivery of its first C-130E in March 2009, with the remainder following by September 2011.
"The decision on the dates of withdrawal of the Polish air force C-130E aircraft will be made by their user, taking into account the security of the required capabilities and the condition of the aircraft," Poland's defence ministry says.