Bucharest could spend around $175 million on a modernisation and support programme for its secondhand fleet of Lockheed Martin F-16 fighters, after securing US Department of State support for the transaction.
Outlined in early November, the proposed Foreign Military Sales deal with Lockheed includes upgrades to the type's avionics, cockpit, software, communication equipment and navigational aids, the US Defense Security Cooperation Agency (DSCA) says. The company also will deliver continued logistical support services to the Romanian air force.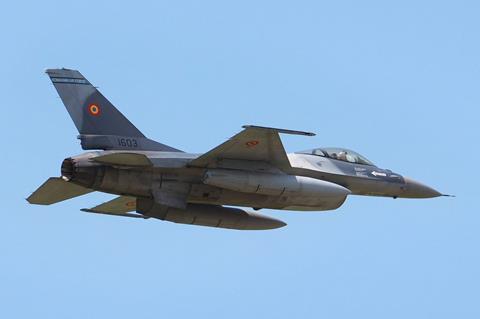 Among the equipment included within the modernisation are secure Multifunctional Information Distribution System Joint Tactical Radio Systems, advanced identification friend or foe installations and joint mission planning system software.
The DSCA says that, if implemented, the work will "improve the security of a NATO ally in developing and maintaining a strong and ready self-defence capability". It also would enable the Romanian air force to "meet interoperability requirements for encrypted communications systems used by NATO forces", it adds.
Cirium fleets data shows that Romania has 11 Block 15-standard F-16A fighters in active use, plus a trio of B-variant trainers. The assets were acquired from Portugal, as it downsized its air force inventory of the type, with a further three yet to be transferred.
The Romanian air force's combat inventory also includes 17 Mikoyan MiG-21s.