Saab has acquired UK autonomy and artificial intelligence (AI) specialist Blue Bear Systems, via an all-shares deal disclosed on 31 August.
"BlueBear [the company's new rendering] will contribute to Saab's existing activities worldwide," the Swedish company says, with the acquired company to become "a centre for rapid concept development, providing expertise and scaling-up innovation".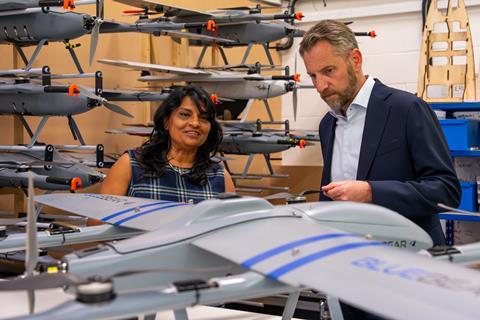 Saab describes Blue Bear as "a world-leading provider of AI-enabled autonomous swarm systems for complex defence and security applications". Its recent achievements have included taking part in the first joint AI and autonomy trial staged between AUKUS partners Australia, the UK and the USA.
"AI will enable Saab to further improve system capabilities and increase efficiency across our world-leading product portfolio," the company says.
With 65 employees and based near Bedford, in southern England, Blue Bear's other interests include developing avionics hardware and software, plus providing modelling and simulation services. The company had a turnover of £8 million ($10 million) in 2022.
"We were looking for a partner where we could take our avionics, our autonomy and our command and control systems, our ability to move fast on integrating new payloads and systems onto third-party aircraft," says Blue Bear chief executive Dr Yoge Patel. "Saab, with all its products in different global markets, is that opportunity.
"We see many enhanced opportunities around naval, air and land autonomy, payload integration, next generation command and control, AI-enabled defence clouds as well as next generation platforms," she adds.
Saab UK managing director Dean Rosenfield says the acquisition will retain its name – although this will be formally changed to BlueBear, a Saab company – and report into its parent company's Surveillance business unit. "We recognise the value of the brand," he notes.
Rosenfield says Saab's UK operation will grow to just over 400 employees in total as a result of the acquisition.
"Our aim is to build a business much as we have in our other focus countries, which are the US, Australia and Germany. We develop IP [intellectual property] for the local government, and for the export market. We see this as a great opportunity for the UK, to also take BlueBear internationally."

Craig Hoyle joined Flight International in 2003, and has edited the now monthly title since 2015. He has reported on the UK, European and international military aviation sector for more than 25 years, and produces our annual World Air Forces directory.
View full Profile