Retirement of the UK's Tranche 1 Eurofighter Typhoons will not result in operational problems for the Royal Air Force (RAF), says chief of the air staff Air Chief Marshal Sir Mike Wigston.
The UK Ministry of Defence (MoD) on 22 March announced that the RAF's oldest Typhoons will be removed from use by 2025, leaving it with a depleted fleet of newer Tranche 2 and 3 examples.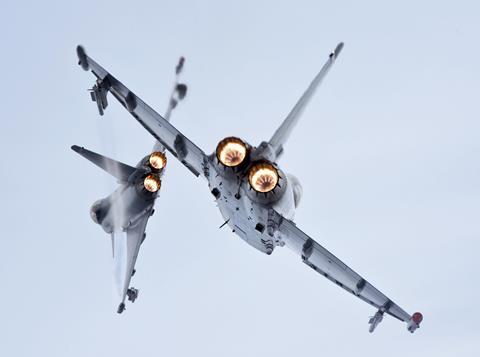 "The reason that we are in a position to retire the very first 30 Eurofighters that came into Royal Air Force service is because those aircraft have got the very first versions of the mission computers, wiring and hardware," Wigston said on 31 March. "The development of the later batches of Eurofighter have developed far beyond what the [first] airframes were capable of.
"The things I can do with my most modern Eurofighters is unrecognisable compared to what I can do with the Tranche 1. These days I use them predominantly for adversary aggressor flying, to train the rest of my force," he notes.
"I don't see this as any diminishing of the frontline capability for the Royal Air Force."
In its Defence in a competitive age planning document for the four-year period to 2025, the MoD says that the RAF will maintain a strength of seven operational Typhoon squadrons, including a joint unit established with the Qatar Emiri Air Force to support the Gulf state's introduction of the type from next year.
Cirium fleets data shows that the RAF has 119 Typhoons in current active use, with the oldest of these aged 16 years.
Germany's air force has already begun the process of retiring some of its Tranche 1 jets, but is also acquiring a replacement batch of 38 Tranche 4 examples via Berlin's Project Quadriga activity.
Wigston made his comments during a briefing supporting the UK's promotion of the Typhoon to meet Finland's HX future fighter requirement.
Helsinki is being offered in-country final assembly of the combat aircraft and production of its Eurojet EJ200 engines, along with potential participation in the Leonardo UK-led ECRS 2 active electronically scanned array radar project.