The UK Royal Air Force (RAF) has received the penultimate example of its on-order A400M tactical transports, with Airbus Defence & Space having transferred its 21st Atlas on 11 October.
Carrying the service registration ZM420, and with the production serial number MSN056, the airlifter was first flown on 6 February 2018, Cirium fleets data shows.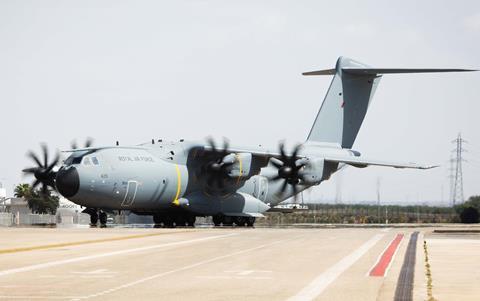 Based at RAF Brize Norton in Oxfordshire and introduced from 2014, the UK's A400M fleet will total an eventual 22 of the Europrop International TP400-D6 transports. However, in its Defence Equipment Plan 2021-2031 publication released last February, the Ministry of Defence indicated that it could seek to acquire "further A400M aircraft", without providing additional details.
Separately, Airbus has detailed the results of a recent crew workload assessment mission flown in the UK using its A400M prototype MSN6.
Intended to demonstrate the type's range of tactical capabilities, the 28 September sortie involved MSN6 undergoing air-to-air refuelling behind an RAF A330 Voyager tanker, before conducting low-level flight operations culminating with the aerial delivery of equipment.
"This mission had particular importance as it provides our customers with distinct confirmation and confidence in the maturity of the A400M as a modern and capable tactical asset," says Simon Nicastro, the company's A400M flight & integration test programme manager.
Airbus notes that after the in-flight refuelling, "MSN6 demonstrated how, despite its weight, it was able to conduct a steep descent and a low-level flight", and describes this as "a unique capability for a military transport aircraft". This phase of the mission concluded with the A400M dropping four 1t loads from its rear cargo ramp.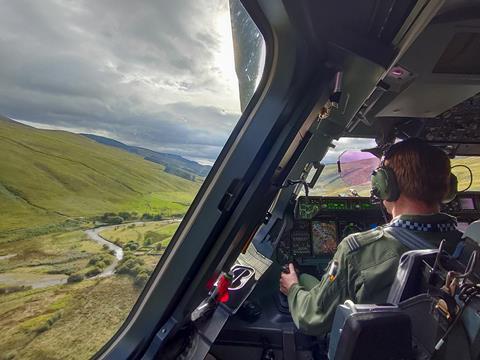 "During the flight, the crew received a re-planning order to avoid a certain area simulating a ground threat, and also to modify the load delivery in order to be representative of a complex operational mission our customers could face in a real scenario," says Airbus flight-test engineer Cesar Gonzalez.
"All objectives were accomplished, and the mission was fully successful, revealing that the crew workload was fully acceptable for this kind of complex operation," Gonzalez says.
Additionally, the RAF's 206 Sqn test and evaluation unit recently conducted low-level trials with paratroopers – a capability to be declared operational by the service next year.
Airbus says it has delivered 112 of the total 176 A400Ms to have been ordered by Belgium, France, Germany, Indonesia, Kazakhstan, Luxembourg, Malaysia, Spain, Turkey and the UK.

Craig Hoyle joined Flight International in 2003, and has edited the now monthly title since 2015. He has reported on the UK, European and international military aviation sector for more than 25 years, and produces our annual World Air Forces directory.
View full Profile