One of Germany's biggest aerospace employee unions has warned the country's government that it risks jeopardising the entire European defence industry if it selects a US-built fighter to replace the Luftwaffe's Panavia Tornado fleet.
Berlin is currently weighing options for a successor aircraft, with a decision expected in early 2020; Boeing's F/A-18E/F Super Hornet and the Eurofighter are both in contention.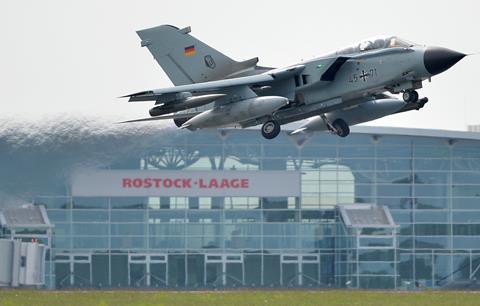 However, the acquisition is complicated by the multiple roles performed by Germany's Tornados: as well as ground attack, electronic warfare (EW) and nuclear deterrent missions are also carried out.
While the Eurofighter would be a natural successor for the strike role, it currently has no EW capability and the US-provided nuclear bombs which would be carried by German aircraft have not been integrated on the multi-national type, potentially opening the door to the Super Hornet or E/A-18G variant.
Although the Super Hornet does not carry a nuclear payload, integration work would take considerably less time than on the Eurofighter, according to reports, if the USA allowed it at all.
But in an open letter to Germany's defence and economy ministers, plus the head of the chancellery, the IG Metall union warns against selecting the F/A-18E/F, even as part of a split-buy.
IG Metall says that 25,000 jobs in Germany and 100,000 in Europe as a whole depend solely on Eurofighter production; a decision against that programme "jeopardises the future of our workforce", it says.
Developing new capabilities for the Europe-built aircraft, such as EW or advanced sensors, is also essential to provide suitably skilled workers for the Franco-German Future Combat Air System programme, the union says.
"The purchase of the F-18 would not only flow billions of dollars in German tax money into the United States, but would also jeopardise the future of military aerospace in Germany. A split solution cannot be the preferred choice. A decision against German and European companies could not be explained to our employees and German taxpayers," the union writes.
IG Metall represents workers from Airbus Defence & Space, sensor specialist Hensoldt, engine maker MTU and aerostructures provider Premium Aerotec.