The US Department of Commerce has added international flight schools to its Entity List, stating that they have recruited Western pilots to provide training for China's People's Liberation Army (PLA).
The two companies, the Test Flying Academy of South Africa (TFASA) and Hong Kong-based Frontier Service Group, were among 43 entities added to the list. Entities on the list are subject to additional licensing requirements and policies beyond the USA's standard Export Administration Regulations.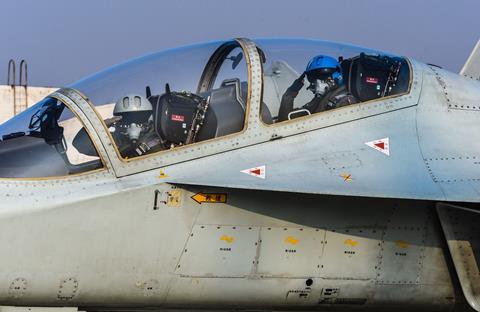 The Commerce Department says that the various entities added have provided assistance to Beijing in areas such as pilot training, aircraft manoeuvres and tactics, hypersonic weapons development, and weapon lifecycle management using Western software.
"Preventing advanced technologies from being used as part of China's civil-military fusion strategy and threatening US national security is our top priority," says Under Secretary of Commerce for Industry and Security Alan Estevez.
TFASA units in China, South Africa, the United Arab Emirates (UAE), and the UK joined the list, along with Frontier units in China, Kenya, Laos, and the UAE.
Several entities falling under China's AVIC aviation group were also added.
"It is imperative that we prevent China from acquiring US technologies and know-how to enable to their military modernisation programmes," adds Matthew Axelrod, Assistant Secretary for Export Enforcement.
"And that's why, today, we're adding parties tied to China's hypersonics, naval modernisation, and military training programmes to our entity list."
TFASA's website suggests significant involvement in China, including an image of an AVIC Hongdu JL-10 advanced jet trainer on its landing page. A page about the company's test pilot and flight test engineer training capabilities shows another Chinese jet trainer, the Guizhou JL-9.
The TFASA site says that company aircrew have experience with a range of Western rotary and fixed-wing combat types including the Boeing AH-64 Apache, Airbus Helicopters Tiger, Eurofighter Typhoon, Saab Gripen, Dassault Mirage F1, and several others.
"TFASA delivers specialist flight training that includes ab-initio through to the full spectrum of advanced operational and tactical training for both fixed-wing aircraft and helicopters," says the company's website.
In October 2022, TFASA stated that its training activities are fully legitimate and comply with all laws in the jurisdictions in which it operates.
FlightGlobal has reached out to TFASA and Hong Kong-based Frontier for comment.
China's tapping of former western military pilots has come into the spotlight in the last 12 months. Former US Marine Corps pilot Daniel Edmund Duggan is in Australia fighting extradition to the USA. He faces allegations that he helped train Chinese military pilots.
In October 2022, the UK Ministry of Defence condemned the practice of former pilots with the UK armed forces accepting paid jobs training their Chinese counterparts. German publication Spiegel International recently carried a report of former Luftwaffe pilots moving to China to take up instructor roles supporting the PLA.