A Bombardier E-11A communications aircraft operated by the US Air Force has crashed in Afghanistan's Ghazni province.
Images on social media appear to show the aircraft, which bears registration 11-9358, burning on a snowy field.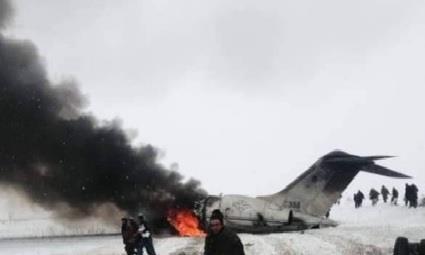 "A US Bombardier E-11A crashed today in Ghazni province, Afghanistan," said US Forces Afghanistan spokesman Colonel Sonny Leggett in a tweet.
"While the cause of crash is under investigation, there are no indications the crash was caused by enemy fire."
The number of deaths or injuries is not clear, but an Associated Press report suggests that eyewitnesses on the ground spotted two bodies.
The E-11A serves as a Battlefield Airborne Communications Node (BACN), enabling the networking of disparate forces and assets in a given region.
Including the aircraft that crashed, the US Air Force operates its entire fleet of four E-11As from Kandahar International Airport. The type is based on the Global 6000 business jet.
Loss of the aircraft is likely to have been responsible for multiple reports on 27 January that a commercial aircraft had crashed in the Ghanzi region.
Several high-profile media outlets, locally and internationally, reported that a passenger aircraft had been lost, prompting flag-carrier Ariana Afghan Airlines to declare that none of its aircraft was involved.