Bombardier's Learjet unit has secured a US Air Force contract worth up to $465 million for a potential six E-11A Battlefield Airborne Communications Node (BACN) aircraft.
The contract confirms work on one aircraft, a military derivative of the Global 6000 business jet, says Bombardier.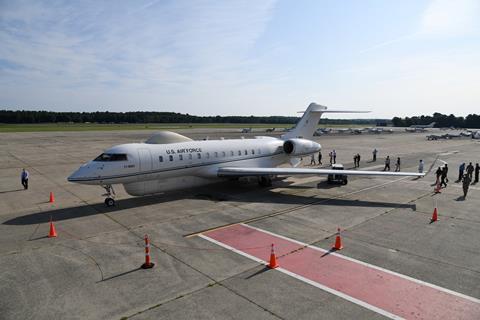 E-11A BACN aircraft provide an airborne relay station to extend communication ranges, bridge different radio frequencies, and "translate" between incompatible communications systems.
Work for the programme will take place in Wichita, Kansas, and the entire project should be completed by 2026, according to the Department of Defense's contract website.
Bombardier adds that the US team that supports the in-service E-11A fleet is poised to commence work on the new aircraft. The communications equipment will be integrated in Wichita, while Bombardier's team in Tucson, Arizona, will install the interior and paint the jet's exteriors.
"Bombardier is proud to be chosen once again by the US Air Force to provide our high-performing Global aircraft and our unique expertise in support of the BACN programme," says Michel Ouellette, executive vice-president, Specialised Aircraft, Programs and Engineering, at Bombardier.
"Our US-based employees are honoured to be lending their skills in support of this elite project."