Dozens of Pratt & Whitney Canada PW307 turbofans on Dassault Aviation business jets may contain disks with the same manufacturing defect affecting more than 1,000 Pratt & Whitney (P&W) PW1100Gs.
That is according to a new proposed rule from the Federal Aviation Administration (FAA), which reveals more about the scope of a problem that is already forcing airlines to ground hundreds of Airbus A320neo-family jets at any given time.
The FAA's filing says 63 PW307As and PW307Ds installed on US-registered jets may have high-pressure turbine disks with "a material defect that could reduce the life of the part and must be removed from service".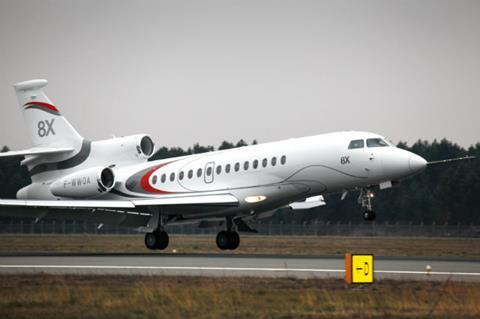 PW307As power Dassault's Falcon 7X and PW307Ds power the Falcon 8X. Canadian regulator Transport Canada has also addressed the problem, flagging the "suspected material defect" in an airworthiness directive issued in May.
FAA documents make clear the PW307 disk problem is similar to that affecting PW1100Gs.
Investigations by P&W determined that both types may be subject to the same "undetected subsurface material defect" that caused the March 2020 uncontained failure during take-off of an International Aero Engines (IAE) V2500 on the wing of an A320. P&W is the majority owner of the IAE joint venture.
The FAA responded in 2021 and 2022 by requiring inspections of small numbers of PW1100Gs, and earlier this year said two PW307s had the same problem.
The scale of the issue became increasingly clear in July when P&W parent RTX said more than 1,200 PW1100Gs are affected and require early inspections or disk replacements. Executives said a "rare" condition involving a powdered-metal manufacturing process caused the issue.
The required maintenance work is now forcing airlines globally to ground hundreds of A320neo-family jets at any given time.
P&W has also said other V2500s and some PW1500Gs and PW1900Gs are affected, but has insisted that those issues will not significantly impact airline operations.