Two other Pratt & Whitney (P&W) geared turbofan variants are affected by the powdered-metal manufacturing problem now disrupting operators of PW1100G-powered Airbus A320neo-family aircraft.
Chris Calio, chief operating officer at P&W parent RTX, confirmed on 24 October that PW1500Gs (which power A220s) and PW1900Gs (which power Embraer E-Jets E2 family aircraft) also have potentially defective components.
"There will be some incremental [aircraft on ground] in the first half of 2024. We believe these will be largely mitigated by the end of the year," Calio says of A220s and E-Jets E2.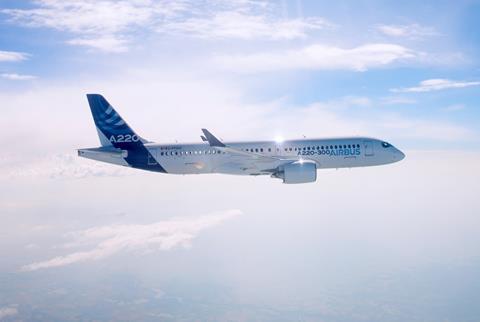 He does not specify how many aircraft or engines are affected but insists the impact will be minimal because required inspections can largely be completed within operators' existing maintenance schedules. Airlines globally operate 256 A220s and 97 E-Jets E2, according to Cirium fleets data.
P&W this year said it needed to recall some 1,200 PW1100Gs due to defective high-pressure turbine and compressor disks. It attributed the defect to a "rare" condition occurring during a manufacturing process using powdered metal, saying it learned of the issue after an International Aero Engines (IAE) V2500 turbofan failed in 2020 due to the same defect. P&W co-owns IAE.
While the problem is widespread among PW1100Gs – by far the most popular GTF variant – P&W had not previously disclosed much detail about the extent of the issue in other GTFs or in V2500s.
Calio elaborated on 24 October.
Speaking of PW1500Gs and PW1900Gs, he says, "We will place a shorter life limit on certain early configuration parts, and an inspection requirement at about 5,000 cycles for current-configuration parts."
P&W expects in early November to issue service bulletins addressing the PW1500G and PW1900G issue, says Calio, noting the Federal Aviation Administration may follow with airworthiness directives.
He likewise does not specify how many V2500s, which power first-generation A320-family jets, might have affected components but says no more than 100 of those engines will require early maintenance to address the problem.
Specific to V2500s, he calls the issue "very manageable" due partly to availability of spare engines.
Airlines operate 2,670 V2500s-powered Airbus narrowbodies, Cirium shows.