Air Tractor has teamed with L3Harris Technologies on the AT-802U Sky Warden, a new variant of its light attack aircraft.
For a decade Air Tractor has marketed the AT-802U, but the Sky Warden nomenclature reflects L3Harris's contribution.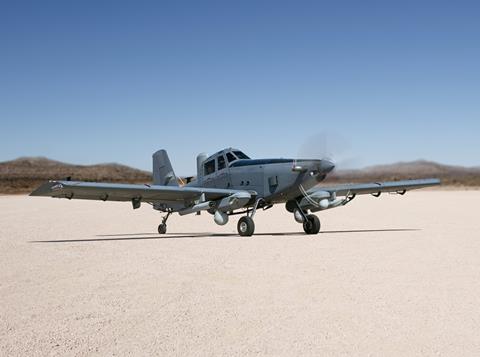 The combined offering comes ahead of US Special Operations Command's planned Armed Overwatch programme, which is supposed to host aircraft demonstrations in 2021 to find a new light attack aircraft. The command is interested in buying up to 75 aircraft in total to replace the U-28A Draco, an intelligence, surveillance and reconnaissance (ISR) turboprop based on the Pilatus PC-12.
L3Harris says it designed the Sky Warden using a team of former special operations aviators. However, the company declines to say if it would participate in the Armed Overwatch programme.
"Sky Warden is a modular, open system designed to enable any customer to be successful in supporting countering violent extremist organisations anywhere in the world," says L3Harris.
Air Tractor is known for its crop duster, the AT-502B. The Sky Warden is based on a firefighting version of that aircraft, says L3Harris.
The new aircraft will feature L3Harris's communications and ISR equipment. Those products include L3Harris's Wescam MX-15 HD and MX-20 HD electro-optical/infrared ball turret cameras, ForceX Harvester mission management software, VORTEX transceiver, Airborne Multi-Channel Radio, PRC-117G tactical radio, BRU-71 bomb release system, KOR-24A small tactical terminal radio, and TACAN+ Tactical Airborne Navigation System.
The two companies claim that the AT-802U Sky Warden features "the largest payload capacity of any single engine turboprop aircraft". The aircraft has a 2,700kg (6,000lb) flexible combat load-out and a 6h loiter ability at 200nm (370km) combat radius. It is also capable of taking off and landing on rough airstrips.
The AT-802U Sky Warden would come with eight wing hardpoints to carry 226kg (500lb)-class bombs, two centreline hardpoints to carry 453kg-class bombs and an innermost wing station optimised for guns ranging from .50 cal to 20mm. A picture distributed by the companies shows the aircraft carrying 2.75in rockets in pods under hardpoints.
"Air Tractor aircraft were developed precisely to operate in austere environments with limited infrastructure," says Jim Hirsch, president of Air Tractor. "Our aircraft are built to offer unparalleled flexibility, essential ingredients for special mission operators."
The companies say they can deliver a production example of the AT-802U Sky Warden within 12 months.
A previous attempt by Air Tractor to sell a light attack aircraft to the US government failed. The company pitched the AT-802U for the US Air Force's Light Attack programme, but was reportedly rejected due to a lack of an ejection seat.
The Sky Warden does not come with an ejection seat. However, L3Harris argues that because it is based on a firefighting aircraft it is survivable in extreme conditions.
"The Sky Warden has an armoured cockpit and engine with self-sealing fuel tanks. If a mishap should occur, the aircraft's high-strength steel tube airframe and cockpit cage would absorb energy from a ground impact," says L3Harris. "The pilot is further protected by AmSafe Inflatable Restraint System airbags. Lastly, the aircraft design and power off glide make for a much safer condition for the two crewmembers as opposed to the extremes of ejection."