Two artificial intelligence (AI)-based alogrithms developed by the US military successfully completed a series of test flights, in which the AI "agents" controlled a tactical US Air Force (USAF) jet and engaged in combat manoeuvres.
The USAF said on 13 February a team involving the Air Force Research Laboratory (AFRL), Defense Advanced Research Projects Agency (DARPA) and the Air Force Test Center conducted the flight evaluations in December, using a Lockheed Martin X-62A testbed aircraft.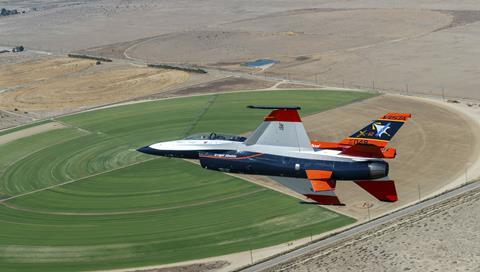 "A joint Department of Defense (DoD) team executed 12 flight tests in which artificial intelligence agents piloted the X-62A Variable Stability In-Flight Simulator Test Aircraft (VISTA) to perform advanced fighter manoeuvres," the USAF says.
The X-62A VISTA is a modified Lockheed F-16D fighter for the USAF by the airframer's Skunk Works division and Buffalo, New York-based flight testing firm Calspan. The platform is being used by the Pentagon to develop AI and autonomous flight technologies.
Christopher Cotting, research director at the USAF test pilot school, says the X-62A "will rapidly mature autonomy for uncrewed platforms and allow us to deliver tactically relevant capability to our war fighter".
The recent series of test flights – held from 1-16 December – saw AI agents from AFRL and DARPA take control of the X-62A and execute "advanced fighter techniques", according to the USAF.
"AI agents performed one-on-one beyond-visual-range engagements against a simulated adversary, and… within-visual-range manoeuvring, known as dogfighting, against constructive AI red-team agents," the service adds.
Lockheed says the milestone marks the first time an AI flew and controlled a tactical aircraft. The company also reveals the AI pilots notched more than 17h of flight time on the X-62A.
The USAF describes VISTA as a "flight-test accelerator", allowing researchers and test pilots to increase the speed at which autonomous flight algorithms are developed and tested.
An official familiar with the programme, who asked not to be identified due to security concerns, says the X-62A platform "allows the USAF to rapidly execute tactical autonomy algorithm and fixed-wing vehicle model flight tests".
"These tests generate data that is used to improve the algorithms and vehicle models at a remarkably fast pace," he adds.
An official with the AFRL's Autonomous Air Combat Operations (AACO) team, who also requested anonymity, notes the X-62A has allowed the team to rapidly update AI agents based on flight performance data, and fly again just hours later "without encountering airworthiness or safety issues".
"Across all domains, research moves only as fast as the tools permit," says Lieutenant Colonel Ryan Hefron, with DARPA's Air Combat Evolution programme.
"It allowed us to accelerate full-scale flight test of AI-driven autonomy by at least a year," he adds.
The USAF notes the goal of its AACO flight programme is to develop and fly an advanced AI-driven autopilot "capable of performing aviate and navigate functions and autonomous behaviours such as advanced intelligence, surveillance and reconnaissance, and beyond-visual-range combat".
DARPA says its programme is focused on developing AI-driven autonomy for air combat by using "human-machine collaborative dogfighting as its challenge problem".
Lockheed emphasises that its autonomous technologies are intended to help the company's human operators maximise performance, safety and situational awareness.
"Lockheed Martin's implementations keep people in control while enabling them to be safer, more effective and better able to focus on higher-level tasks by empowering them to make more-informed decisions quickly," the company says.
After what Lockheed describes as a series of routine inspections, VISTA flights are scheduled to resume at Edwards AFB in California throughout 2023.