Boeing has unveiled the first engineering, manufacturing and development (EMD)-phase example of its newly designed T-7A Red Hawk trainer jet at a company facility in St Louis, Missouri.
The US Air Force (USAF) is expected to purchase 351 of the single-engined jets to train its fleet of future fighter and bomber pilots.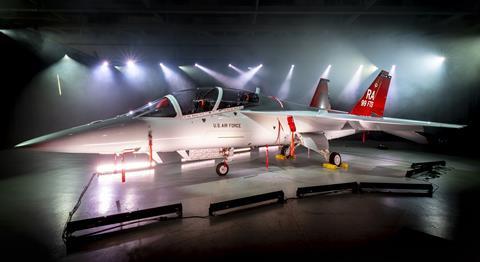 The Red Hawk has not yet been officially delivered to the USAF and will undergo ground and flight testing in St Louis, a city with a history of groundbreaking aviation accomplishments.
Preceding the fanfare of the T-7A unveiling was a Boeing quarterly earnings call on 27 April, in which executives revealed the T-7A programme racked up $367 million in cost overrun and delay charges, for which the company is on the hook.
Boeing says pandemic-related labour challenges and supply chain constraints are to blame.
The T-7A programme resides at Boeing's St Louis facility, with the aft section of the trainer being built by Saab in Linkoping, Sweden. Saab will soon start producing that section at its new production facility in West Lafayette, Indiana.