RTX Ventures, the in-house venture capital fund of Raytheon Technologies, will join a $100 million financing round for hypersonic aircraft developer Hermeus Corporation.
Atlanta-based Hermeus is seeking to develop hypersonic aircraft for both military and commercial uses, including hypersonic passenger jets.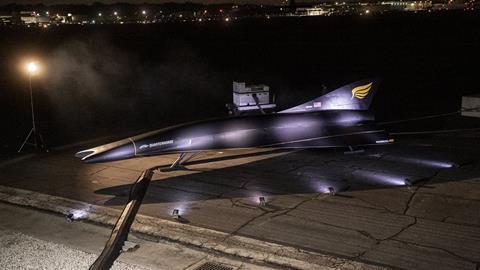 "Hypersonic technologies are of critical importance to national security, which is why we made our first investment in a company with such a bold plan and vision in this space," Daniel Ateya, managing director of RTX Ventures, said on 12 May.
"Hypersonic aircraft will radically accelerate air travel and enable the United States to address critical national security challenges," adds AJ Piplica, chief executive at Hermeus.
The company's first design, named Quarterhorse, is a remotely-piloted aircraft powered by Hermeus' proprietary turbine-based combine cycle Chimera engine. The design incorporates a GE Aviation J85-21 turbojet core with an additional ramjet afterburner.
Hermeus conducted a ground demonstration of the Chimera engine in November 2021. The company's website says Hermeus aims to "radically accelerate air travel" by developing aircraft capable of reaching Mach 5 (3,200kt, 6,000km/h).
RTX Ventures makes strategic investments in early-stage companies, accelerating the development of transformational aerospace and defence technologies, Raytheon says.
The fund targets four areas of focus: secure and connected ecosystems; autonomy and artificial intelligence technologies; power and propulsion systems; and precision sensing and effects.
Waltham, Massachusetts-headquartered Raytheon is the parent company of Collins Aerospace Systems, Pratt & Whitney, Raytheon Intelligence & Space, and Raytheon Missiles & Defense.