The US Air Force (USAF) will retire the older Boeing F-15C/D Eagle fighters the service currently has stationed in Japan.
The 18th Wing, which oversees aircraft at Kadena air base in Okinawa, said on 28 October that the USAF will retire the F-15C/D fleet in Japan, with those airframes logging more than 30 years of service.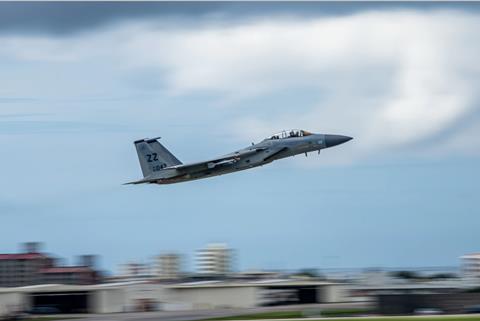 The Department of Defense (DoD) says the "phased withdrawal" of the aircraft from Okinawa will begin in November and take two years to complete.
Kadena is home to some 48 of the fourth-generation F-15. Recent war games conducted by the Center for Strategic and International Studies found the air base would be a hugely important hub in any regional conflict with China.
The move is billed as part of a "modernisation plan" to ultimately replace the older "Charlie" and "Delta" models of the venerable air-superiority fighter with a newer type. Though the DoD has not identified a long-term replacement, possibilities include Boeing's F-15E/F or F-15EX, or Lockheed Martin's fifth-generation F-35 or F-22.
The DoD says it will use a rotating force of fighters from elsewhere in the fleet "to provide backfill solutions that maintain regional deterrence and bolster our ability to uphold our treaty obligations to Japan".
The USAF adds that modernising capabilities in the Indo-Pacific theatre remains a top priority for Washington DC but will not come at the cost of Japanese security.
"The US commitment to regional deterrence and the defence of Japan is ironclad," the 18th Wing notes. Pentagon press secretary Brigadier General Pat Ryder echoed that sentiment on 1 November when asked about the plan at a press conference in Washington. He did not elaborate.
However, a wrinkle in the USAF's plan arose later on 1 November when four members of Congress, including one former US ambassador to Japan, voiced opposition to the effort in a letter sent to Secretary of Defense Lloyd Austin.
"This decision would involve half of the roughly 100 USAF fighters in Japan," the lawmakers write. They express support for fleet modernisation as a means of countering China but express unease over the lack of plan to backfill the retiring F-15s.
"We are concerned with reporting that indicates that there will be no permanent presence to replace the Okinawa F-15s. Instead, USAF plans to send F-22 fighters from Alaska to Okinawa on only a rotational basis."
The lawmakers request a congressional briefing on the matter, arguing the move runs counter to stated US goals of regional deterrence and support for allies.