The US Department of State has approved the potential sale to Germany of Lockheed Martin F-35 fighters, a move the US government says will improve European stability.
The USA also approved the sale to Germany of several types of missiles and of related equipment, for a combined estimated price of $8.4 billion, the Defense Security Cooperation Agency (DSCA) said on 28 July.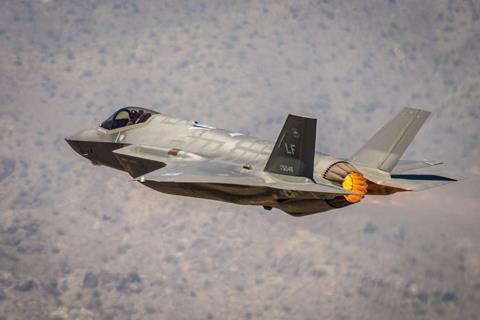 In March, Germany said it intended to purchase 35 F-35As to replace its fleet of Panavia Tornado fighters. The deal needed foreign sales approval by the US government. Lockheed has said deliveries to Germany could start in 2026.
"This proposed sale will support the foreign policy and national security of the United States by improving the security of a NATO ally that is an important force for political and economic stability in Europe," the DSCA says.
The F-35s will "improve Germany's capability to meet current and future threats", it adds.
The approval comes amid tension in eastern Europe following Russia's February invasion of Ukraine.
The US government also approved Germany to purchase 37 Pratt & Whitney F135 engines (35 installed on F-35s and two spare engines), 105 Raytheon AIM-120C-8 Advanced Medium Range Air-to-Air Missiles, 75 Lockheed AGM-158B Joint Air-to-Surface Standoff Missile-Extended Range weapons and a host of other equipment and related services.
The DSCA says it notified the US Congress of its approval.
Lockheed did not immediately respond to a request for comment.