The US State Department approved a potential $78 million upgrade package for four Lockheed Martin P-3C Orion maritime patrol aircraft which Argentina recently purchased through the Pentagon's Excess Defense Articles programme.
The possible Foreign Military Sale would include equipment and support services, such as four turboprop engines for each airframe, plus four turboprop engines as spares, the US Defense Cooperation Agency says in a notification on 19 December. The notice did not disclose the aircraft's new engine type, though typically the P-3C is powered by Rolls-Royce T56-A-14 turboprops, according to Lockheed Martin.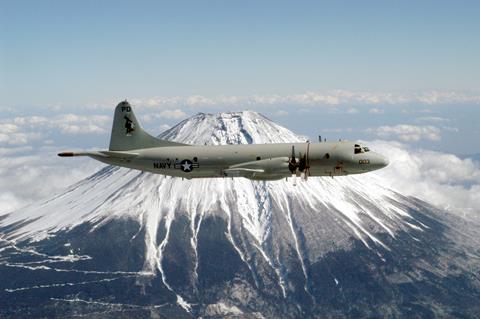 Buenos Aires' defence minister Oscar Aguad announced the purchase of the aircraft from the US government at a conference in September, according to Janes.
The P-3C entered service in the 1960s with the US Navy (USN) and is a land-based, anti-submarine and anti-surface ship maritime patrol aircraft. It can be armed with AGM-84 Harpoon torpedoes, AGM-84E Standoff Land Attack Missiles, AGM-65F Maverick air-to-ground missiles, Mk54 lightweight torpedoes, rockets, sea mines and depth charges, according to the USN.
The P-3C is still used by the USN, but is being gradually retired and replaced by the larger Boeing P-8A Poseidon, which is based on the commercial 737-800ERX.
The upgrade package for Argentina's P-3Cs will include communications equipment, radar equipment, infrared and electro-optic equipment, aircraft depot maintenance equipment, spare parts, as well as logistical and other technical assistance, says the US Defense Cooperation Agency.
"This proposed sale will support the foreign policy and national security of the United States by helping to improve the security of a partner in South America," says the agency. "Argentina's existing P-3B patrol aircraft have reached the end of their operational service life. To maintain maritime security, Argentina acquired four [Excess Defense Article] P-3C aircraft to replace its older aircraft."
Crucially, Argentina's southernmost point, the Isla Grande de Tierra del Fuego, sits off the Drake Passage, an important route between the South Pacific and South Atlantic through which submarines pass as they traverse the globe. Monitoring underwater traffic through that area could be a vital mission for Argentina's upgraded P-3Cs.