Arms control regulators in Washington DC have approved a request by Finland to purchase advanced air-to-air and air-to-ground missiles from US manufacturer Raytheon Technologies.
The US Defense Security Cooperation Agency (DSCA), which manages sales of American-made weapons to overseas buyers, said on 28 November Helsinki has been aprroved to purchase 40 AIM-9X Block II Sidewinder air-to-air missiles and 48 AGM-154 Joint Standoff Weapons (JSOWs), a precision air-to-surface glide missile.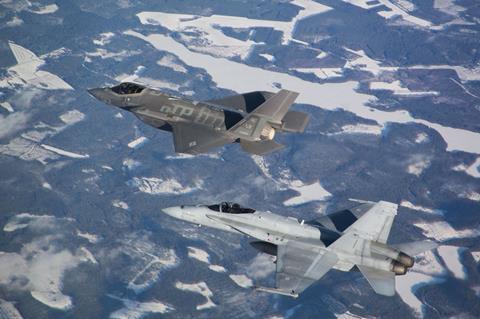 Both systems are made by US manufacturer Raytheon and require government approval for overseas export.
"The proposed sale will improve Finland's air-to-air and air-to-surface weapons capabilities and will positively impact US relations with countries in the Nordic region," the US government's approval announcement says. "Finland intends to use these defence articles and services for its fighter aircraft fleet."
Finland currently operates 55 Boeing F/A-18Cs, Cirium fleet data shows. In December 2021, the northern European country announced plans to acquire 64 Lockheed Martin F-35 fifth-generation fighters.
The DSCA announcement also says the missile sale "will not alter the basic military balance in the region", generally a pre-condition for the approval of any US arms sales.
In May, Finland and neighbouring Sweden requested to join the 30-member NATO alliance, in which treaty signatories pledge mutual defence in the event of an attack against a member state.
The missile sale to Finland "will support the foreign policy and national security of the [USA] by improving the security of a trusted partner, which is an important force for political stability and economic progress in Europe", adds the DSCA.
The agency describes Finland's defence capability as "vital to the US national interest".
Purchases of American-made weapons by foreign governments require approval from the US Department of State and, in some instances, review by select committees of US Congress. The system is known as the Foreign Military Sales process.