Thai Airways International will take five Airbus A321neos on lease from the second-half of 2025, and is in the final stages of securing another five examples.
The A321neos – the Bangkok-based carrier's first new narrowbodies in about 10 years – will be deployed on domestic and regional flights, says airline chief Chai Eamsiri.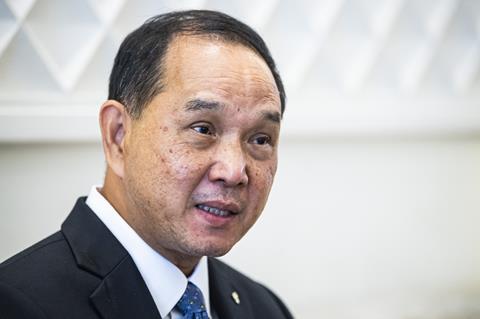 He was speaking to FlightGlobal at the IATA annual general meeting in Istanbul.
Chai, who was promoted to helm the airline in November 2022, says he hopes the new narrowbodies will arrive "as soon as possible", but is also flags the ongoing supply chain crunch facing aircraft manufacturers.
"We would love to have it by next year, but as you know [the aircraft manufacturers] cannot deliver as their order books are filling up," says Chai.
Thai has also secured 11 A350s on lease, two of which have been delivered to the airline, he adds. The remaining nine will arrive by the first quarter of 2024, which will provide the airline a "significant boost" to its capacity, especially on long-haul flights to Europe.
The airline already has a fleet of 12 in-service A350-900s, according to Cirium fleets data. These primarily operate to Australia and Europe - two regions that have traditionally been strongholds for the airline.
Chai acknowledges that "overall recovery has come quicker" than forecast, and so has brought back a number of older aircraft it owns – Boeing 777s and A330s – to meet a spike in travel demand.
Still, he stressed the "majority of the Thai Airways fleet are new-generation aircraft", and that the older jets will be retired.
Chai says the airline has plans for cabin retrofits in an effort to modernise its products, but says Thai is "more focused" on meeting rising travel demand.
Pointing out that aerospace and MRO companies are "completely full" now, Chai adds: "Right now the market is coming back, so you have to grab [the opportunity] first. Otherwise, if you retrofit the aircraft now…it would be [taken out] from service for a while, and we will lose that revenue."