When she was young, Nicole Battjes knew she wanted to be like her dad.
"My father was an airline pilot, and he always loved going to work," the 39-year-old says, speaking from her office in Hawaii's capital, Honolulu. Behind her desk hangs a poster of a lush tropical scene, framed by a rainbow.
"He was always so happy to put on that uniform and go to work, and when you're little, you don't even really know what that means. But I knew there was an energy there that I wanted, too."
When she grew up, she manifested that energy in her own company – but far from a commercial airline cockpit. She founded Rainbow Oahu Helicopter Tours (at the time called Novictor Helicopters) in 2011 when she was 27, with just $5,000 and a dream.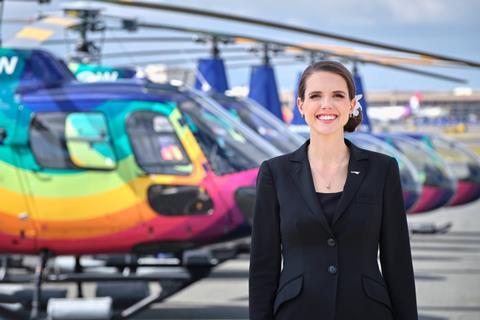 After completing her university degree in Michigan, a helicopter flight drew her attention and shifted her appetite for aviation away from commercial fixed-wing flying and toward rotorcraft. She moved to California to complete her certificates with the help of a generous flight training scholarship and worked at a helicopter company to hone her professional knowledge and business skills.
In addition to being a pilot, she also longed to be an entrepreneur.
"I started my business before I had a commercial [pilot] certificate," she says. "Then it was just me and one helicopter and I didn't have any staff. Today, we have a fleet of eight aircraft and 50 employees."
Rainbow is a Part 135 air carrier specialising in sightseeing tours over the island of Oahu, but it also conducts training flights, photography flights and private charters. It operates six Robinson R44s and two Airbus Helicopters H125s. Its 12 pilots fly up to 32 flights daily, logging a combined 7,500h of flight annually.
Battjes no longer pilots commercial tours, but still logs around 150 flight hours a year doing evaluations, training, charters, as well as tours for friends and family. She also has her hands full with other commitments – in June she had her second child and on 1 July took over the chair position of industry group Helicopter Association International (HAI), for a one-year term.
DISASTER RESPONSE
But when an inferno engulfed the ancient Hawaiian city of Lahaina on neighbouring Maui island in early August, Battjes felt called to help those who had lost everything. As a mother herself with a baby just a few weeks old, she was deeply concerned about the vulnerable situation of new mothers and their infants.
She immediately dedicated one of Rainbow's aircraft to assisting with relief efforts, and sent her assistant and her father-in-law to Costco with a credit card and instructions to buy all the baby formula, nappies, wipes and other supplies they could find. That first shopping run netted a $4,000 haul that Rainbow flew to Maui the next day.
Soon after, Battjes started a Gofundme online fundraiser that has so far brought more than $70,000 in donations from around the world.
"People just started pouring money in, and all my staff started volunteering, they all wanted to do this," she says. "We started flying these relief flights and focusing on essential items for infants and moms."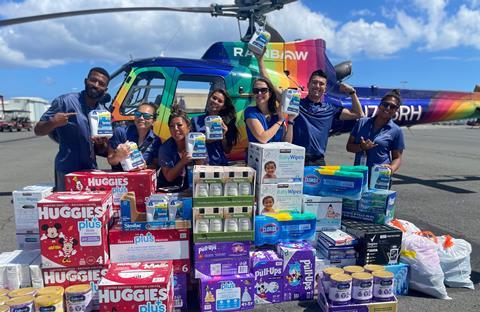 By the end of August, the company had operated 10 missions to Maui, a flight of about 1h from Rainbow's base at Daniel K Inouye International airport. Those missions brought 2,040kg (4,500lb) of supplies for babies and mothers, including 275 containers of formula, 175 boxes of nappies and 175 boxes of wipes. She also flew 12USgal (45 litres) of donated breast milk to Maui herself.
"I want to make sure that all babies are fed and clean, and a helicopter can uniquely bring things fast," she says. "It's a huge effort. We're weighing every single thing every time because when you're taking between 500 and 1,000lb per flight, you're doing weight and balance calculations, moving seats, things like that."
SAD SCENES
Battjes has piloted several relief flights herself and was dumbstruck at what she saw. "It's a dusty, sad, gray scene… the palm trees are black, and they're drooping," she says. "And that's not what we do in Hawaii. We have rainbows, lush greenery, and even if you're not prone to be a happy person, it's really hard not to just look outside and be happy. So that is really, really hard to see."
Maui is just 87nm (157km) away across the water, but it seems like a different world.
"We're flying over there and then going to the scene, and then we come back to our island. And here it's all rainbows and palm trees again. That's a strange dichotomy."
Battjes is happy with the way her company has grown on Oahu, but is also keen to set up shop on another one of Hawaii's eight islands. As tourism returns following the Covid-19 pandemic, her sights are set on expanding to Kauai or Maui.
"I've only ever grown the business to what I felt that I can handle. I have a successful recipe and a great team. We have a corporate policy, and we are corporate when it comes to safety, but we still have this family feel, or as we call it here in Hawaii: Ohana.
"I know I could just put a helicopter on another island, start a new base and fly tours, but I want to make sure that I keep my infrastructure, my safety culture and my company values.
"Those are my goals, and I'm going to get there."

Pilar Wolfsteller, Americas Air Transport Editor, is an FAA-certified flight instructor (CFI), and holds a commercial pilot certificate with instrument rating. She joined FlightGlobal in 2019, and is based in Las Vegas. She covers airlines across the hemisphere and her interests also include future-oriented sustainable aviation technology, advanced air mobility projects and pilot training topics. Pilar began her journalism career at the global news agencies Bloomberg and Reuters, and has reported from more than 50 countries.
View full Profile