NH Industries (NHI) is for the first time considering arming the NH90 transport, potentially offering a range of weapons – including rockets and guided missiles – as part of a future mid-life upgrade for the helicopter.
Although the naval NFH variant carries torpedoes for anti-submarine warfare missions, options on the TTH troop transport variant have been largely limited to door guns, albeit Middle Eastern customer Oman has equipped some of its fleet with podded 20mm cannons.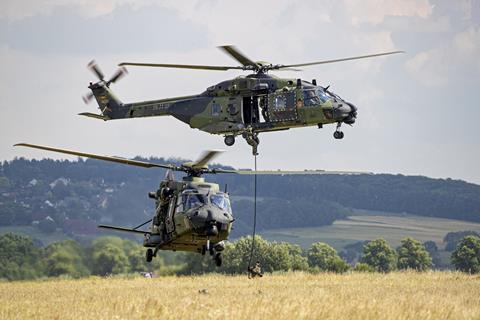 Upping the offensive potential of the TTH would be a major capability enhancement for the 11t-class rotorcraft, says Axel Aloccio, president of NHI.
Arming the helicopter was one of several future upgrade options presented to NH90 operators for the first time during a "product development forum" held in September.
"We have started to discuss and more importantly we have started to present to [customers] the main technology bricks we are working on and that could be integrated onto the NH90 in the framework of a possible Block 2 [upgrade]," he says.
An option to "weaponise the TTH" would allow operators to increase the range of missions performed by the rotorcraft, he says, adding: "It makes sense to have this type of capability on the TTH."
No final decision has been made on which munitions to offer, but weapons under consideration include rockets and anti-tank missiles, Aloccio says.
A modular weapon system like Airbus Helicopters' HForce product is likely to be offered, he adds.
Besides armaments, other possible "techno bricks" include those relating to "connectivity and survivability", or the addition of manned-unmanned teaming capability.
"We are working on those things and explaining to our customers that all these bricks will mature in the next five to 10 years and could be integrated on the NH90 in the frame of a Block 2 upgrade," he says.
Underpinning the upgrade plan are two key developments, however. First is an extension to the helicopter's lifespan, taking it to 50 years from 30 currently.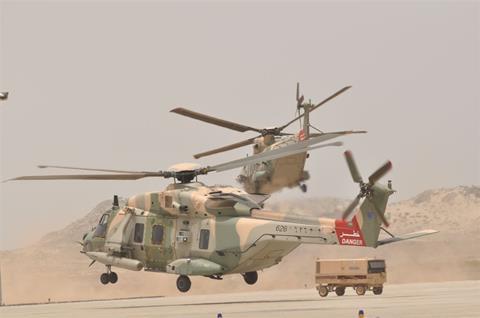 Feasibility studies supporting the lifetime extension (LTE) were completed earlier this year and revealed that no modifications would be required to achieve the longer service life.
The results of those studies will be formally presented to the customer contracting body, the NATO Helicopter Management Agency (NAHEMA), next year.
However, operators at September's product development forum were informed of the results of that work, Aloccio says.
"We already presented, in anticipation, the outcome of the lifetime extension study and we confirmed that indeed it was positive and, more importantly, we confirmed to them it was positive without any hardware change on the aircraft.
"[The LTE] doesn't come with a caveat or a pre-requisite: you take the aircraft as they are, and the lifetime can be extended without any particular intervention or retrofit."
A contract from NAHEMA would be required to rubber-stamp the LTE, says Aloccio, although he stresses this would be entirely paperwork based.
The second "foundation" of the Block 2 upgrade will be a "complete review" of the NH90's avionics architecture, adopting instead an open system approach "which will be much easier to upgrade and easier to interface with".
Aloccio says the enhancement is being referred to as "Block 2", rather than a mid-life upgrade, to emphasise the potential for additional improvement packages in the future.
"We believe that because the airframe is so sound and because it can be extended to 50 years – and also because the size of the aircraft… is really well suited to our customers, there is a really strong baseline on which we can, every 15 or 20 years, upgrade the aircraft," he adds.
NHI – a three-way venture between Airbus, Leonardo and GKN/Fokker – has around 90 helicopters still in its backlog, having delivered the 500th example in March this year.
Aloccio sees potential to add another 50-100 helicopters to the orderbook by 2028.

Dominic Perry is deputy editor of Flight International but also contributes extensively to flightglobal.com. Although specialising in the coverage of the helicopter industry, he has written on most topics in aerospace – be they commercial, defence or business aviation. In addition, there has been an increasing focus on the decarbonisation of the industry and zero-emission flight initiatives.
View full Profile