The Korean Air Aerospace Division (KAL-ASD) will conduct extensive upgrade work for over 30 Sikorsky UH-60Ps in service with South Korea's army, extending their service life to the 2040-2045 timeframe.
The work will involve modifications to the rotorcraft's cockpit, including communications and avionics, says a KAL-ASD representative at the Seoul ADEX defence show.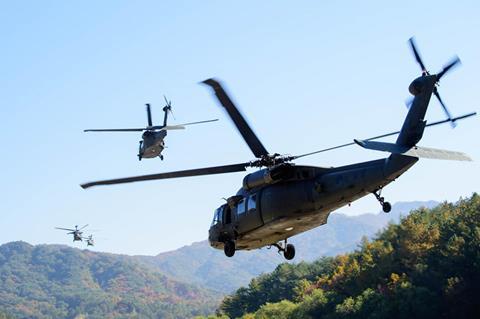 A number of analogue parts will be switched to digital alternatives. Other work will include updates to what KAL-ASD views as certain "obsolete parts" in the engine, as well as the installation of external fuel tanks to extend range. The rotorcraft are powered by GE Aerospace T700 engines.
To help with the installation of a glass cockpit, Korean Air has entered into a memorandum of understanding with Collins Aerospace, which has extensive experience with UH-60 upgrade work.
Cirium fleets data indicates that there are 127 UH-60Ps in service in South Korea. Of these, 110 serve with the army, nine with the navy, and eight with the air force.
The average age of the fleet is 28.5 years.