Boeing is set to embark on its final production run of CH-47F Block I helicopters following an order under the US government's Foreign Military Sales (FMS) process.
The order covers 18 CH-47F Block I helicopters for South Korea, and one additional example for Spain, says Boeing.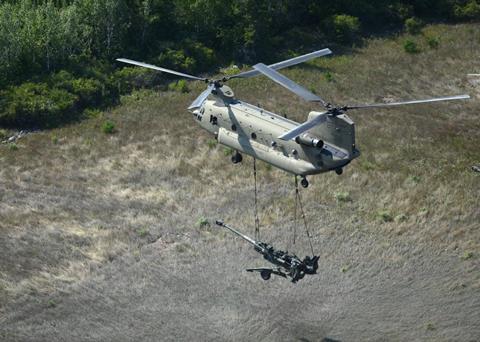 The deal is valued at up to $793 million and will see Block I production concluded in 2027.
In March, Seoul's Defense Program Production Committee cleared the acquisition of the Chinooks, which followed a December 2022 FMS case covering 18 helicopters, 42 Honeywell T55 engines, and a range of other systems.
The additional Spanish CH-47F will ultimately take the Spanish army's fleet to 18 examples, says Boeing. Spain is also receiving 17 remanufactured CH-47Fs, which are being upgraded from its existing fleet of D-model Chinooks.
"South Korea adds to a growing list of operators around the globe that recognise the value the modernised CH-47F Chinook brings to the table," says Vince Logsdon, vice president, Global Business Development and Strategic Marketing for Boeing Defense, Space & Security.
"While Spain is already reaping the benefits of the aircraft in Europe, we are honoured to support South Korea's heavy-lift helicopter modernisation with a versatile product capable of meeting the demanding mission requirements in Asia Pacific."
Boeing adds that it will continue its transition to building the more advanced CH-47F Block II, which offers increased lift and range owing to an improved drivetrain, reinforced airframe, and redesigned fuel tanks.
It adds that six CH-47Fs are under contract with the US Army, 36 with the US Army Special Operations Command (SOCOM), and 14 with the UK.
SOCOM has been receiving CH-47Fs in the new standard "for several years", and the US army will take its first example in early 2024.