NH Industries (NHI) believes it can extend the service life of its NH90 helicopter out to 50 years with no modifications required to the airframe or dynamic components.
A preliminary analysis conducted by the manufacturer indicates that a 20-year increase will be possible, says Oliver Heller, government programme manager at Airbus Helicopters, the largest shareholder in the NHI consortium.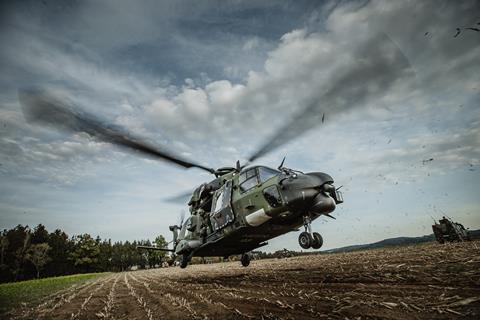 Heller says NHI hopes to receive a contract in the first half of 2022 from NATO helicopter management agency NAHEMA on behalf of operators to perform a complete analysis which will lead to formal qualification of the life extension.
No changes to the airframe, dynamic components or engine should be required to achieve the 50-year goal, says Heller, although it has not included the helicopter's avionics within the scope of its analysis.
"Even if the outcome of the study says the computers could work for 50 years, they would be replaced in any case for obsolescence reasons," he says.
"We need to focus on the basic aircraft because the mission element will evolve in any case over 50 years."
Initial customer requests asked NHI to look at the potential for life extensions to 40 and 50 years, he says, as operators analyse their future upgrade requirements.
However, it became apparent that it would be "almost the same effort" for 50 as for 40 years.
Based on the current backlog, NH90 deliveries will run until 2030, he says, leading to some helicopters potentially flying into the 2080s.
Heller says the life-extension approval will allow a more structured timeline for future enhancements, avoiding issues encountered in the first 15 years of the programme's life where multiple upgrades and variants created needless complexity and high levels of downtime for operators.
"If the helicopter is not flying it is not good for anyone," he says. "In the longer term we cannot afford to have multiple major retrofit programmes," he told the Defence IQ International Military Helicopter conference in London on 16 February.
NHI foresees the potential need for a mid-life upgrade programme in the mid-2030s.
Meanwhile, the manufacturer is currently developing the Standard 2 upgrade for the French army to support special forces missions.
Initial modifications include the addition of the Safran EuroFLIR 410 electro-optronic system, with displays and controls available for all on board, a new generation digital map generator, plus the introduction of a fast roping and rappelling capacity through the doors, and an enlarged rear sliding window allowing the use of a machine gun.
Under a second step, which is still to be contracted, the helicopter will gain a new distributed aperture system (DAS) – six infrared cameras arrayed around the nose – with the 3D image generated then presented on the digital display of a next-generation Thales TopOwl helmet, aiding operations in degraded visual conditions.
To be applied to France's last 10 examples of the TTH variant, deliveries of Standard 2 helicopters are on-track to begin in 2025.