AeroVironment has flight tested a larger Switchblade variant capable of carrying a bigger munition and travelling significantly further.
Development of the larger loitering munition is co-funded by an undisclosed customer, the company says in a 3 March earnings call. The firm started openly discussing developing the new Switchblade variant in 2019, but had not previously disclosed a flight test campaign.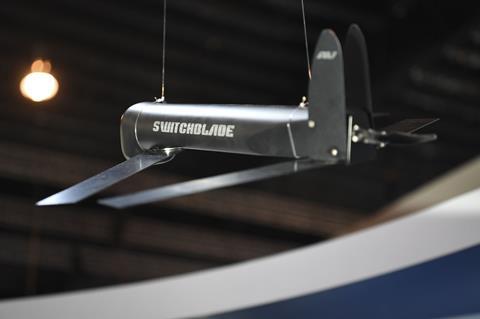 Tests of the larger Switchblade started in AeroVironment's 2020 fiscal year, which began 1 May 2019, the company says. AeroVironment says those tests were "successfully" conducted, though it provides no further details.
"We hope that we could introduce this product to the market in the near future," says chief executive Wahid Nawabi. "This larger variant flies further and longer, and carries a much bigger mission effects or mission impact. And so, what that does, it actually increases the addressable size of the market for Switchblade and tactical missile systems significantly."
Introduced in 2011, Switchblade was one of the first loitering munitions to be adopted and used in combat operation by a military service. The US Army and US Marine Corps are both customers.
The original Switchblade is about 0.6m (23.6in) long, has a range of about 5.4nm (10km) and weights 2.5kg (5.5lb), including the weight of a grenade-size munition on its nose.
Small enough to fit inside a rucksack, the loitering munition is advertised as able to precisely take out enemy soldiers or light vehicles. The Switchblade is steered to its target via remote control, and has front and side electro-optical cameras and an infrared nose camera.
Switchblade has become an important part of AeroVironment's sales. In FY2019, the company generated $314 million in revenue, 21% of which came from the loitering munition.
However, international rivals have outflanked AeroVironment in foreign markets due less-strict weapon export rules.
AeroVironment hopes to secure its first export order for the Switchblade in 2020 following newly received permission from the US government to sell the weapon to a small subset of NATO militaries, the firm told FlightGlobal in February 2020.
The company's main rivals, based in Israel, include Elbit Systems, Israel Aerospace Industries, Rafael Advanced Defense Systems and UVision. Those manufacturers have developed loitering munitions with longer ranges and more-lethal warheads, some of which can pierce armour, including that of tanks.
Anti-armour loitering munitions have more range and precision and cost less than present-day anti-tank weapons. For example, Raytheon's Javelin anti-tank missile is projected to cost about $250,000 per unit, according to the US Department of Defense's FY2021 budget request.
The Pentagon is asking for $218 million worth of Javelins in the upcoming fiscal year – far more than the approximate $66 million it spent on Switchblades in AeroVironment's FY2019.
"If you look at the DoD spend in other categories of systems that are in that space, it's much, much larger spend of dollars in that addressable market," says Nawabi.