Asia-Pacific has the biggest proportion of total border closures compared to other regions, reflecting local governments' relative caution that has curbed confirmed Covid-19 case numbers but heavily impacted air traffic recovery.
As of 1 February, Asia-Pacific countries accounted for 30 of the 69 destinations that were fully shut to tourists, double that of Europe's 15 destinations and outnumbering Africa's 11 destinations, the Americas' 10 and the Middle East's three, according to the latest "Covid-19-related Travel Restrictions: A Global Review for Tourism" report released by the United Nations World Tourism Organization on 8 March.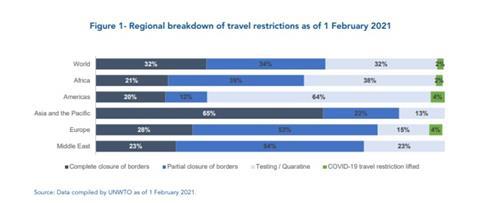 The primary reason for the global closures is the emergence of new Covid-19 variants that prompted many governments to reverse efforts to ease restrictions on travel, highlighting the "persistent seriousness of the epidemiological situation", the report says.
The report classified destinations' restrictions on international travel across four broad categories, from the strictest being complete border closure; to partial closure; those that have testing or quarantine measures; and finally, those that have lifted all Covid-19 travel restrictions.
Among the top four countries in Asia-Pacific for international arrivals, those not accepting international tourists were China and Japan, while South Korea and Thailand fall within the testing and quarantine measures category, requiring tourists, who may be subject to quarantine requirements, to present a negative Covid-19 test result upon arrival.
Cirium core data shows that air traffic in these top four markets has fallen off a cliff in the second half of 2020, compared to the same half-year period in 2019, which saw the number of flights to each destination range between 122,000 and 242,000.
The number of international flights to China and Japan fell by 93% and 89% to about 18,000 and 15,000 flights respectively, compared to the same half-year period the year before. Even with comparatively weaker border restrictions, South Korea and Thailand saw flights down by 91% and 96% to 11,000 and 5,000 flights respectively.
Within the top 15 markets, India, which has also completely closed borders to tourists, posted a relatively smaller decline of 81% to 18,000 flights.
Once-strong transit hubs Singapore and Hong Kong, which both fall into the partial closure category, have suffered similarly steep cuts of 92% and 88% to nearly 7,300 and 9,900 flights, respectively.
Southeast Asian nations Malaysia, Indonesia and the Philippines, whose borders remain fully closed to tourists, all saw flights fall by similar levels, by 95% to 4,600 flights, 93% to 3,700 flights and 88% to 5,100 flights respectively.
Flights to Australia and New Zealand declined by 89% to almost 6,000 and 88% to about 2,400 respectively, despite differing on border restrictions. The report classified Australia's borders as partially closed and New Zealand's as completely shut to tourists.
The report also stated that among the one-third of destinations with borders fully closed to tourists, just over half – or 38 destinations – have been closed for at least 40 weeks, while 34% of worldwide destinations are now partially closed to international tourists.
It added that almost another one-third of all worldwide destinations have the presentation of such Covid-19 tests as their main requirement for international arrivals, with quarantine measures often adopted in conjunction.
FRESH PUSH FOR TRAVEL OPENINGS
The report comes as some authorities around the region have begun working to prepare for the resumption of international travel.
Singapore and Australia's authorities are in talks to re-open air travel between the two countries, including plans for a quarantine-free travel bubble.
"Singapore is currently in discussions with Australia on the mutual recognition of vaccination certificates and resumption of travel with priority for students and business travellers," Singapore's Ministry of Foreign Affairs (MFA) said in a 14 March statement that addresses a same-day Sydney Morning Herald report on the matter.
In February, Singapore confirmed it had been engaging Hong Kong's authorities over the revival of a travel bubble, which has been on ice since November.
The city-state has made recent progress to reopen borders to targeted segments, starting with international business. In the last week, it welcomed the first cohort of business travellers at a dedicated facility called Connect@Changi to stay and conduct meetings without the need to serve quarantine on arrival. The first phase of the project will offer 150 guest rooms and 40 meeting rooms that can host four to 22 people and will be expanded in phases to a full capacity of 1,300 business travellers.
Singapore's transport minister Ong Ye Kung noted at a Committee of Supply debate for the ministry on 5 March that travel recovery will hinge on replacing quarantine and stay-home requirements with viable measures that can "substantially mitigate" the risk of coronavirus transmission.
Meannwhile, Japan faces a looming deadline to re-open borders safely for travel in time for the Tokyo Olympics on 23 July. the central government is expected to look into whether it should lift the state of emergency affecting the Greater Tokyo Area, a 13 March report by The Japan Times states.
It is similarly looking to issue vaccination certificates to those who have been inoculated against the coronavirus, the minister leading vaccination efforts was quoted as saying in various local media reports today, clarifying an earlier remark that appeared to reject the idea of using Covid-19 vaccination certificates for official purposes such as international travel.
Meanwhile, Thailand has announced plans to halve its mandatory quarantine for vaccinated foreign tourists arriving in the country from 14 to seven days from April, its health minister was quoted as saying in an 8 March report by Reuters. Non-vaccinated tourists who have a negative Covid-19 test result will serve a slightly longer 10-day quarantine.
Beyond October, Thailand could look to ease more restrictions, including a complete waiver of quarantines, provided it inoculates 70% of medical personnel and at-risk groups, according to the same Reuters report.
UNWTO secretary-general Zurab Pololikashvili says: "Travel restrictions have been widely used to restrict the spread of the virus. Now, as we work to restart tourism, we must recognise that restrictions are just one part of the solution. Their use must be based on the latest data and analysis and consistently reviewed so as to allow for the safe and responsible restart of a sector upon which many millions of businesses and jobs depend."