A systematic pre-flight coronavirus testing regime for all international passengers is the only way to kick-start the airline sector's recovery, according to IATA.
Laying out its proposals for such a scheme today – which it says would be on a scale with the security measures introduced post-9/11 – the airline body suggests the initiative would replace the need for the quarantine requirements that are "killing the industry's recovery".
"IATA is calling for the systematic testing of all international passengers before departure," states IATA director general Alexandre de Juniac. "This will enable governments to safely open borders without quarantine".
Crucially, de Juniac continues, it will also "provide passengers with the certainty that they will be able to travel without worrying about last-minute changes that could spoil their plans", while giving them confidence that fellow travellers are Covid-free.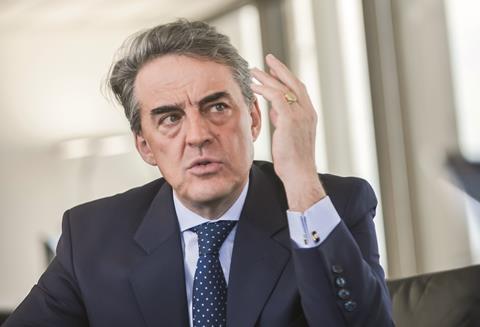 He recalls the "dismally disappointing" figures for international travel in July, which were just 8% of year-ago levels, in explaining why drastic measures are needed.
Noting that IATA "did not come to this decision lightly", de Juniac highlights potential hurdles such as "logistical challenges" around "the integration of systematic testing to the travel process".
As a result, the scheme "needs manufacturers to develop a test that can be deployed that is fast, accurate, scalable, affordable and easy to operate".
"We expect a solution – or several solutions – to come to the market in the coming weeks," de Juniac states.
The scale of testing required – millions of passengers daily under pre-Covid levels of traffic – means non-medical personnel would need to deliver tests, he notes.
At the same time, governments would need to agree to common standards on testing, so that there would be "mutual recognition" of the results. De Juniac suggests the standards should be agreed through ICAO.
IATA will work with airports and other partners to implement the scheme, he states, partly informed by experiences already gained with limited testing at some airports.
"Time is of the essence," de Juniac concludes. "Our position today is setting a marker for everyone in the industry to aim for. Much will need to be done to achieve 100% testing of all passengers prior to departure.
"We don't see any alternative solution that would be less challenging or more effective."