Complaints from airline chiefs about airport charges are as old as the industry itself, but a discussion at an ACI Europe conference today showed that the issue has a fresh relevance amid the coronavirus crisis.
During a robust but good-humoured debate, Ryanair group chief executive Michael O'Leary and the head of Dublin airport operator DAA, Dalton Philips, shared their opinions on who should take the financial hit from the depressed pricing environment that is likely endure for the next few years – and on whether a well-known German supermarket might have the answer.
An important consideration, in O'Leary's view, is that while he sees passenger volumes restoring "very quickly" as the Covid-19 crisis recedes – with short-haul demand back at 2019 levels in 2022 – "pricing will take longer".
Amid a "nervousness about travel", he states, "pricing is the way to conquer that".
Airlines will see volumes return "because we will discount the seats", O'Leary continues, adding: "The hotels, the tourism operators will discount prices."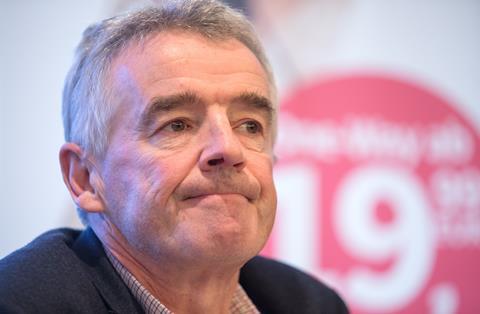 Airports have a role to play in that equation, O'Leary believes, "by discounting what are, by any measure across Europe, extraordinarily high airport fees for their glass mausoleums".
He suggests those discounts could be on a rolling basis as the industry recovers. Then, once yields are back to pre-crisis levels, "the airports can do what they always do, and that's screw the airlines and screw the passengers".
O'Leary repeats a warning made several times by Ryanair in recent weeks: if the economics of an airport are unfavourable, the carrier can move its capacity elsewhere.
Unsurprisingly, Philips does not share O'Leary's assessment of the situation.
"We believe that we have some of the most competitive charges in all of Europe for a major airport," Philips says of Ryanair's Dublin airport home.
Recalling his experience working in the grocery industry, Philips explains that he "very much sees our focus on being the Lidl of airports – being able to offer a really good product at a really good price".
Airlines will not use the airport "unless we deliver on that", he acknowledges.
But Philips also notes the need to strike a balance on discounting, with one eye on the longer-term impact.
"It's going to be a bloodbath out there," he says of the airport industry during the recovery from the Covid-19 crisis. "There are 200 regional airports that are teetering on the brink of insolvency at the moment.
"Everybody is going to discounting, and I think we've got to be wise about that, because the long term could be quite severe for the airport sector as well. There's a balance here."
Dublin airport is not, therefore, "about glass mausoleums", Philips insists. Instead, "we're about low cost" without giving in to every airline demand on charges.
He highlights steps made by the airport to achieve that low-cost aim, including "taking a third of our workforce out, as we speak" and "going through every process from end to end to see how we can be more efficient".
Striking a more conciliatory note than O'Leary, Philips suggests that "there is scope for airlines and airports to work together more collaboratively".
But with O'Leary referring to "tin-eared airports that just don't get it" later in the session, Philips is unlikely to be banking on such an approach being achievable with Ryanair any time soon.