Ryanair will no longer serve either of Belfast's airports from October, citing the UK's air passenger duty (APD) tax and a "lack of Covid recovery incentives" from the airports.
The airline confirms to Cirium that it "will cease operations from Belfast International and Belfast City from the end of the summer schedule in October". It adds that the aircraft "will be reallocated to lower-cost airports elsewhere in the UK and Europe for the winter schedule, which starts in November".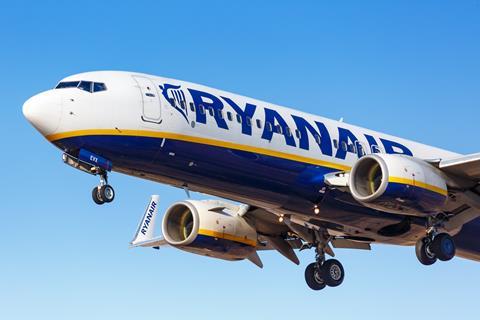 Ryanair says it has taken the decision "due to the UK government's refusal to suspend or reduce APD, and the lack of Covid recovery incentives from both Belfast airports".
Earlier this year the Irish budget carrier had returned to George Best Belfast City airport after 11 years with the launch of eight new routes, but these were summer-only services.
Belfast International airport says it is "disappointing that Ryanair has now decided to withdraw operations from the entire Northern Ireland market at the end of October, having variously had a presence in all three local airports in recent years", adding: "It has been a difficult period for aviation and a time when consumers need some stability and faith in the Northern Ireland air transport network."
The airport says that, "anticipating such a move", it has "been engaging with our existing and other new airlines to provide continuity on the routes to be vacated by Ryanair". It hopes "to make announcements regarding fresh route development in the near future".
Ryanair used to serve Derry too but said in December that it was cancelling flights from the Northern Irish airport. It blamed an "unexpected policy shift" by the UK Civil Aviation Authority over domestic and non-European Union flights from the UK that were operated by its Ryanair UK unit.