Staffing issues are causing fresh disruption at Amsterdam Schiphol airport as the operator has today asked several airlines to cancel flights amid a shortage of security personnel.
Schiphol has already been forced to cap the number of movements over the summer as the airport struggled with overcrowding amid a lack of the necessary security staff to process passengers.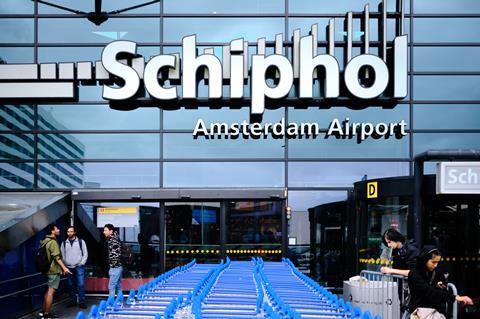 Despite the expected addition of 200 more security staff in August, Schiphol has continued to restrict flights movements into September and October. Indeed the cap of 67,500 departures set for September was lower than August, in part because of seasonal effects which means more coats need to be processed through security screening.
However even with these caps in place, Schiphol has today been forced to ask several airlines to cancel flights between between 16:00 and 23:00 because staffing levels at security today are "lower than what Schiphol had requested of the security companies".
"After weeks of improvement, Schiphol did not expect to have to take these measures again," the airport operator says. "Employees in the terminal are doing everything they can to ensure that everyone can travel today, but unfortunately there is a chance that travellers will miss their flight due to long waiting times.
"Schiphol regrets the situation that has arisen and understands the disappointment and frustration that it may entail for airlines and travellers. Travellers who miss their flight as a result of long queues at the security check can apply to Schiphol for compensation. Airlines that heed the request to cancel flights will be compensated."
Services across Europe have been hit over the summer by operational challenges as airports and airlines have struggled to secure enough staff during the post-Covid ramp-up to meet increased demand.
Passenger numbers at Schiphol airport more than quadrupled to 23.8 million over the first six months of the year compared with the same period last year. That though remained more than 10 million less than pre-Covid peak of 34.5 million in the first half of 2019.