The number of passengers travelling by air in Africa will not return to 2019 levels until at least the start of 2024 because of the lengthy rollout of the Covid-19 vaccine, the leader of airline association AFRAA has warned.
During the first of a series of AFRAA webinars, secretary general Abderahmane Berthe noted that with only 20% of the continent's population to be vaccinated by the end of 2021, herd immunity – which occurs when at least 60% of the population have been inoculated – will not be reached until at least two or three years' time.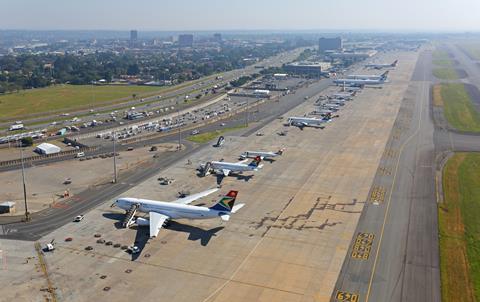 This means it is unlikely that air traffic levels will return to 2019 levels "until the end of 2023", and possibly longer, says Berthe.
He argues that governments "need to accelerate the vaccination of African citizens in order to remove travel restrictions and [allow air travel to] come back as soon as possible".
The rollout of the vaccine risks being delayed in the continent by a lack of cold storage facilities at airports, he notes.
AFRAA's director of government, legal and industry affairs Rafael Kuuchi asserts that the crisis has demonstrated the need for Africa to develop its own airlines instead of relying on foreign carriers for connectivity, as non-African airlines largely disappeared from the continent at the start of the pandemic.
Berthe agrees: "All of us, we remember that at the beginning of Covid it was airline cargo operations which were transporting medical supplier… Today we are talking about airlines transporting vaccines." He adds: "We have realised that air transport is very very key in Africa for connectivity because land means of transport are very weak."
Even before Covid-19, many local carriers were struggling as a result of high fuel prices, lack of infrastructure, fragmented air traffic markets, and a proliferation of airlines which was hindering profitability.
"Airlines need to be agile, adapt, rethink their business models, put in place some cost management, and develop new business like cargo operations. Airlines can really adapt to this situation." says Berthe. "It's a kind of revolution."
He adds that pan-African initiatives are being undertaken to liberalise markets (including the Single African Air Transport Market and the African Continental Free Trade Area), pool airline resources and enhance co-operation, while huge safety-performance gains made in recent years have been maintained.