Southwest Airlines plans to add a crew base at Nashville International airport in the second quarter of 2024 that will start with 150-250 pilots and eventually house 500-600 pilots.
The Dallas-based carrier said on 14 August that the base – to be its 12th in the USA – will also initially house an estimated 500-700 flight attendants "with continued growth planned".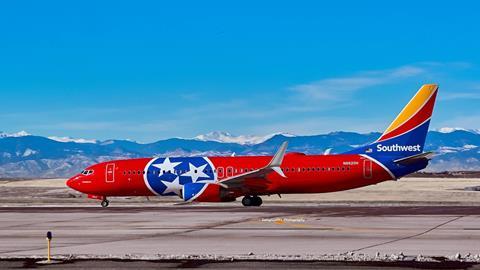 "Hundreds of Southwest employees who work in the air and on the ground already consider their home town to be in middle Tennessee, with our presence in Nashville remaining a key factor to our success, future growth and the reliability of our network," says Andrew Watterson, chief operating officer at Southwest.
Southwest currently maintains crew bases in Atlanta, Baltimore, Dallas, Denver, Chicago, Houston, Las Vegas, Los Angeles, Oakland, Orlando and Phoenix.
The airline has been flying to Nashville since 1986 and currently operates 166 daily departures to 57 cities from Nashville International, the carrier says. It has some 1,000 employees based in Nashville.
The carrier also plans to add four gates at Nashville International – for a total of 20 – by the end of 2023 to support its planned growth at the airport.
Some 22 million air travellers passed through Nashville International during fiscal year 2023, up about 19% from its prior-year total. The airport averaged 300 departures and 300 arrivals during the fiscal year.