Italian general aviation aircraft manufacturer Tecnam has launched a diesel-engined version of its P2010 piston-single, targeted at owners and operators who are seeking a lower-cost and more versatile alternative to traditional avgas-fuelled light aircraft.
Introduced on 27 May and scheduled for certification in July, the P2010 TDI is powered by a 170hp (127kW) Continental Diesel CD-170 powerplant, which Tecnam describes as "the newest design and highest horsepower engine in the CD-100-series family". The engine can run on kerosene-based Jet A, Jet A-1 and diesel, it says.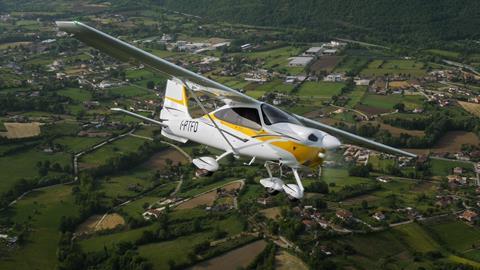 This new arrival will join Tecnam's two other models of the avgas-fuelled P2010 – also referred to as the P Twenty-Ten - powered by Lycoming's 180hp IO-360-M1A and 215hp IO-390-C3B6 powerplants.
"Engine development in general aviation has been stagnating for decades. As a consequence, operating costs have increased greatly - caused by unreasonable fuel consumption and antiquated technology," says Tecnam.
"It is time for a new propulsion concept: the diesel technology, which is paving the way for jet fuel as a standard for general aviation."
Capua-based Tecnam says the CD-170 offers "ease of flying" with its single-lever, electronic engine monitoring and safety features. The engine also boasts "significantly lower operating costs" than avgas-fuelled powerplants, due to its low fuel consumption, and the affordability of kerosene worldwide, says Tecnam.
The TDI has a full-tank capacity of 63USgal (240 litres) and burns just 5.2USgal per hour, it notes. Jet fuel is also more widely available than avgas, making the aircraft more versatile, the company adds.
"The P2010 remains a modern aircraft for flight schools and private owners," says Tecnam chief executive Paolo Pascale. "With Continental's Jet A/diesel engine, the TDI is simply the ideal aircraft, combining a modern, sleek, green design with consistent, robust power."
The four-seat, high-wing P2010 was introduced by Tecnam in 2014 as its first single-engined model to be validated under European and US CS/Part-23 airworthiness regulations, which cover civil aircraft with a maximum take-off weight of up to 5,575kg (12,500lb). To date, the airframer has delivered over 120 examples.