Bombardier is no novice when it comes to providing comprehensive, peace-of-mind aftermarket support for its customers. Since introducing its initial service program in the 1980s, its cost-per-flight-hour portfolio – branded Smart Services – has become an industry leader. More than 1,600 Learjet, Challenger and Global operators rely on the parts and maintenance programs to ensure their jets stay productive.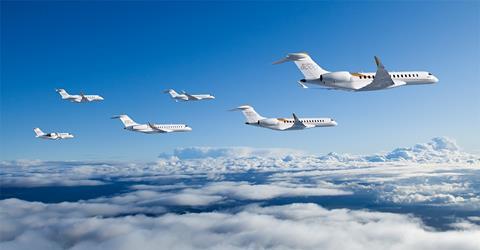 Now the manufacturer has gone a step further with the launch of Smart Services Elite, an enhanced package that gives clients the option of passing operational aftermarket care of their aircraft to Bombardier, with a single point of contact and bill, covering everything from scheduled maintenance to mobile repair. Parts, labour, airframe corrosion coverage and shipping are all included in the flight per hour fee.
While some operators will prefer to choose from a menu of options based on their requirements or capabilities, Smart Services Elite is aimed at "customers who want it extra simple," explains Guillaume Landrivon, vice-president of Smart Services & programs. There is one cost-per-flight-hour that is fixed for the length of the contract, meaning that there are no surprises.
Since announcing Smart Services Elite at the European Business Aviation Convention and Exhibition in Geneva in May, the feedback has been beyond our expectations, says Landrivon. Although the all-in package will not be for all Bombardier customers, many operators and owners already see it as the perfect way to maintain their aircraft, he suggests.
Global customers in particular appreciate the worldwide AOG [aircraft on ground] coverage. "Your aircraft could be in the Maldives, but just one phone call will bring our team there, with labour as well as airline tickets and hotels all covered," he says. Bombardier's recent expansion of its in-house service centre network – there are now 10 service centres around the world, coupled with the 24/7/365 customer response centres in Montreal, Wichita and Singapore – helps to provide that any problem/anywhere/anytime assurance.
In addition, when it comes to scheduled maintenance, Smart Services Elite customers do not have to factor in having to bring their jet back to base when a regular inspection is due. "Whether the aircraft is in Singapore, Dallas, or London Biggin Hill, we can take care of it. We don't tell them where to go," says Landrivon.
Another advantage of all Bombardier's Smart Services offers is that coverage stays with the jet when it changes hands.* This is a big benefit to finance companies in particular, says Landrivon. "More and more banks are making Smart Services mandatory for their customers. If they have to repossess, they know that the aircraft has been maintained by the OEM. This helps them move it off their books right away," he says.
Like its Smart Parts Preferred sister product, Smart Services Elite is inflation-proofed, with rate increases capped at 2.95% a year. With the soaring costs of components, along with many other items, over the past two years, this has been a boon. "It has really protected many of our customers since Covid," says Landrivon. "CFOs, in particular, are very happy."
Following the launch of Smart Services Elite, Bombardier will go on offering its existing Smart Parts Preferred and Smart Parts Plus products, aware that many of its 1,600 Smart Services customers will want the choice when it comes to level of support. "One size does not fit all," says Landrivon. "We want to be flexible."
* Certain conditions apply. Subject to the execution of a Bombardier Smart Services Elite agreement