From saving lives to ferrying workers safely to and from some of the most challenging work environments, Bristow is trusted by governments and energy giants around the world to provide mission-critical services. Now the rotorcraft specialist is intent on combining more than seven decades of expertise with some of aviation's most exciting and potentially disruptive new technologies to expand its offering to customers and open new markets.
Bristow's roots date from 1948, and its affiliates have conducted operations on every continent. Today, Houston-headquartered Bristow Group is one of the industry's foremost vertical-lift operators with more than 200 heavy and medium helicopters and a presence in 16 countries.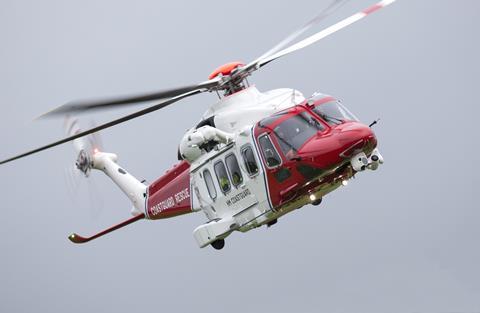 That fleet could grow threefold if a slew of recent commitments for so-called advanced air mobility (AAM) platforms turn into firm orders. Bristow has been one of the biggest backers of many of these start-up ventures, with deals for close to 400 next-generation aerial platforms from no fewer than seven developers. They include electric vertical take-off and landing designs from Embraer spin-off Eve, Beta Technologies, Lilium, and Vertical Aerospace, as well as the Elroy Air Chaparral unmanned cargo drone.
Becoming one of the earliest adopters of what could be a vertical-lift revolution is a bold move for a business best known for operating 'heavy metal' on essential services, but chief executive Chris Bradshaw is convinced it is the right approach, thanks to the many synergies that come into play. "We believe we can leverage our global footprint and 70-plus years of global aviation expertise to start serving our customers in an entirely new way," he maintains.
Bristow is looking at both existing and emerging market segments. For instance, drones could play a role in cargo delivery – an urgent medical item to an offshore rig perhaps – or as additional eyes in the sky in maritime or mountain searches. There is also the opportunity from the growing offshore wind market. "There are multiple ways for Bristow to participate in the AAM value chain, including by serving our existing large energy company customers in a different way," states Bradshaw.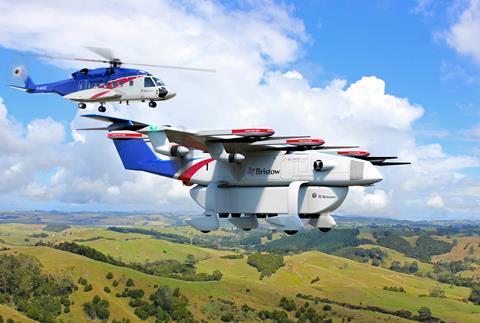 Not all the next generation platforms Bristow is committing to are from new developers. It is the launch operator for Leonardo Helicopters' AW609 tiltrotor, the first civil aircraft to combine elements of fixed- and rotary-wing aircraft. Although Bristow has plenty of experience introducing new types, including the Leonardo Helicopters AW139 and Sikorsky S-92, the imminent arrival of the AW609 will open a new chapter in vertical flight by offering both vertical versatility and long-range capability.
Bristow is firmly part of the AAM advance guard, but it is not neglecting its core markets of offshore transport, search and rescue (SAR), and government support. The company has been supplying SAR services to governments and the oil and gas industry since 1971, and has operations in, among others, Guyana, Norway, Suriname, Trinidad, and the USA. Bristow is also in the Canadian market through a partnership with Cougar Helicopters.
In 2022, it added two major pieces of business. In November, Bristow began a 10-year contract with the Netherlands Coastguard, providing round-the-clock SAR service from bases at Den Helder and Midden Zeeland airports, each equipped with an AW189. In July, it secured a new 10-year deal with the Maritime & Coastguard Agency in the UK, where it is the incumbent SAR supplier. Six AW139s will shortly join its fleet, adding to nine AW189s and three S-92s retained from the current contract.
The UK is where it all started for Bristow, and the country is a significant customer. Bristow delivers SAR and support services to the Ministry of Defence in the Falkland Islands, as well as fleet operational sea training helicopter support to the Royal Navy. On the other side of the world in Australia, local subsidiary Bristow Defence Industries provides logistics, aircraft life and fuel service support to 10 Republic of Singapore Air Force Boeing CH-47F Chinooks based in Queensland.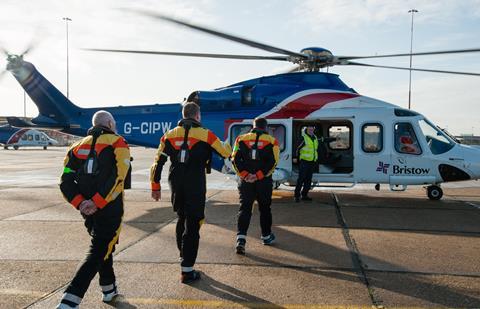 Partly thanks to the 2020 merger with ERA, the USA – where the company operates from 12 locations – is one of Bristow's biggest markets. One of its key clients is the US Department of the Interior, whose Bureau of Safety and Environmental Enforcement contracts Bristow to transport personnel and cargo as part of its oversight and inspection responsibilities for offshore oil and gas platforms and vessels in the Gulf of Mexico and outer continental shelf.
Bristow's fleet comprises some of the most impressive equipment in vertical lift. However, its leaders insist the business would be nothing without its people, from pilots to paramedics and maintenance engineers to emergency response controllers. "My favorite part of the job is getting out in the field and meeting our team members from around the world, and just seeing the passion they have for what they do," says Bradshaw.
His colleague Samantha Willenbacher, senior vice-president for the Americas, says the length of service of many employees illustrates the depths of expertise the company can draw on. It is also proof Bristow is a great place to work. "Our people are a big differentiator," she maintains. "As you travel around the globe, you see those who are celebrating 10, 15, 20, even 40 years with the company, and the great thing is that they all share the same core values."
Since the post-war era, energy companies and governments have relied on Bristow's "no mission too complicated" approach to providing safety-first services. The company's willingness to bet in a big way on the technologies of tomorrow has added a new dimension to one of the most recognized helicopter brands. It could make it even more of a fitting career choice for those who want to play a key part in the next evolution of aviation.