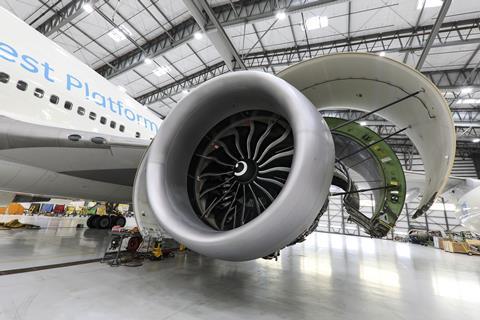 As one of the world's largest suppliers of aircraft engines, systems and services, GE Aerospace continues to be an industry leader in developing technologies to reduce CO2 emissions from flight.
GE Aerospace's newest engines are designed to offer better fuel efficiency and lower CO2 emissions than their predecessors with advances in engine architecture, aerodynamics, and advanced materials. For example, technologies such as carbon fiber composites, Ceramic Matrix Composites and additive manufacturing have led to lighter parts with higher capabilities.
Read more about these breakthrough materials and processes below.
Carbon fiber composites
Since introducing carbon fiber composite fan blades into service with the GE90-94B engine in 1995, GE Aerospace has accumulated more than 27 years and over 175 million engine flight hours of experience with composite fan blades. Today, GE and CFM International, a 50-50 joint company between GE and Safran Aircraft Engines, remain the only aircraft engine manufacturers with composite fan blades in commercial service.
Carbon fiber composite fan blades are higher strength and lighter weight than the traditional titanium fan blades they replaced, helping improve fuel efficiency in GEnx, CFM LEAP and GE9X engines compared to their predecessors. When the GEnx entered service in 2011, carbon fiber composite materials were expanded to the fan case, as well as the fan blades, helping the GEnx achieve up to 15% better fuel efficiency than the CF6 engine.
Ceramic Matric Composites (CMCs)
CMCs, another type of composite material containing silicon carbide fibers, are lighter weight than traditional material alloys and more heat resistant, allowing engines made with CMCs to operate at higher temperatures with less cooling air. The CFM LEAP engine, which entered service in 2016, was the first to contain a CMC part in the engine's hot section and is 15% to 20% more fuel efficient than the previous generation CFM56 engine.
Additive manufacturing
Additive manufacturing, also known as 3D printing, has led to lighter weight engine parts with higher capabilities, new materials, and more complex designs than parts made by conventional manufacturing methods.
Unlike traditional manufacturing methods that mill or cut away from a slab of metal or use forming molds to produce a part, additive manufacturing grows parts directly from a computer-designed file using layers of fine metal powder and an electron beam or laser. The resulting part can be lighter weight and manufactured in a fraction of the time it would take using traditional methods. The ability to grow parts with additive manufacturing also allows for the elimination of joints and improvement of designs by creating a single, integrated part to replace an assembly. Conventionally-made parts could consist of multiple components.
Today, GE Aerospace and CFM International have more than 10 additively-made parts approved by the U.S. Federal Aviation Administration (FAA) for commercial aviation use for GE90, Passport, CFM LEAP, GEnx and GE9X engines.
CMC and additive milestones
Two GE Aerospace facilities producing advanced jet engine components passed major manufacturing milestones in 2021, shipping the 100,000th turbine shroud made from CMCs and the 100,000th additively manufactured fuel nozzle tip. Both parts are made for the CFM LEAP engine.

GE Aerospace is a world-leading provider of jet engines, components and systems for commercial and military aircraft with a global service network to support these offerings. GE Aerospace and its joint ventures have an installed base of more than 40,000 commercial and 26,000 military aircraft engines, and the business is playing a vital role in shaping the future of flight. For more information, visit us at www.GEAerospace.com.
View full Profile