GE Aerospace's 2022 profit jumped 66% year-on-year to $4.8 billion, partly reflecting a bump in revenue from commercial aviation parts and aftermarket services sales.
The company succeeding in ramping up deliveries of civilian aviation engines in 2022, though its output remains significantly depressed from the heady years preceding the Covid-19 pandemic.
It delivered 1,663 commercial aviation engines last year, including 1,136 CFM International Leap turbofans, which power Airbus A320neo-family jets and Boeing 737 Max, parent General Electric reported on 24 January. GE owns CFM in partnership with Safran Aircraft Engines.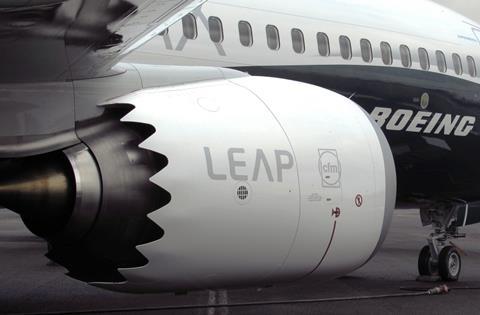 That output is up from 2021, when GE delivered 1,487 aviation engines, including 845 Leaps. But in 2019, prior to the aerospace industry downturn, GE delivered 2,863 commercial engines, including 1,736 Leaps.
"We're laser-focused on supporting airframers, airlines and lessors as they ramp post-pandemic," says Larry Culp, CEO of GE and of GE Aerospace. "That means providing stability and predictability for our customers – keeping our mature fleet flying and growing our new fleet. All the while, continuing to invest in technologies that will define the future of flight."
Engine makers across the aerospace industry have in recent years struggled to recover output after slashing operations during the pandemic. The sector's recovery has been hampered by inflation and shortages of supplies and labour.
In 2022, Boeing executives specifically called out shortages of Leap turbofans as hindering 737 production.
GE Aerospace's 2022 revenue came in at $26.1 billion, up 22% year-on-year. The company says the results are "driven by continued growth in commercial [aviation] services from higher internal shop visits and strong external spare part sales".
But GE Aerospace's revenue last year remained well short of the $32.8 billion it logged in 2019.
The company landed new orders in 2022 for 2,127 commercial aviation engines, including 1,515 Leaps. Those figures are roughly flat from 2021, when GE took orders for 2,248 aviation engines, including 1,457 Leaps.
GE Aerospace's fourth quarter profit came in at $1.4 billion, up 18% year-on-year.
The company expects continued growth from its aviation engine business. It predicts the division's 2023 revenue will jump year-on-year in the "mid-to-high teens" percent range, with 2023 profits coming in between $5.3 billion and $5.7 billion.
During 2022, GE continued to undergo a major restructuring under which it is spinning off its two non-aviation businesses – GE Healthcare and energy division GE Vernova.
It divested GE Healthcare in January and intends to divest Vernova in 2024, at which time GE Aerospace is to be the surviving company's sole remaining division.