Pratt & Whitney, a world leader in aircraft propulsion technology, is supporting its customers to achieve net zero CO2 emissions by 2050. While this ambitious goal was recently adopted at the ICAO General Assembly, we are under no illusion as to the scale of the challenge. Our approach to powering sustainable aviation is focused on developing smarter technologies and expanding the use of cleaner fuels across all the aircraft applications we serve, from helicopters to commercial airliners.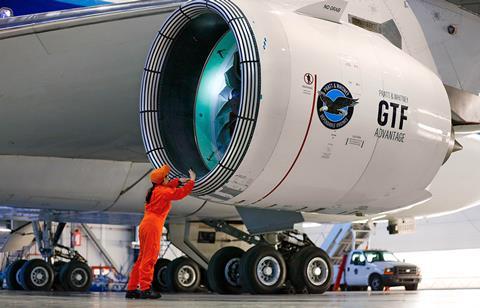 Continually increasing engine efficiency is a central objective in Pratt & Whitney's strategy, and foundational to that is the Pratt & Whitney GTF™ engine. Since first entering service in 2016, GTF engines have already helped avoid 8 million metric tons of CO2 emissions by enabling up to 20% better fuel efficiency for 1,300 single-aisle aircraft flying today.
With its unique geared fan architecture, we see considerable potential to increase the GTF efficiency even further. We already began to demonstrate this potential with the launch of the GTF Advantage engine, the first evolution in the GTF family, offering greater thrust and 1% better fuel efficiency. Our pursuit of next-generation technologies such as bigger fans, smaller engine cores, more advanced materials and hybrid-electric propulsion will allow future generations of GTF to be even more efficient, helping put air travel on a more a sustainable path. That's why for us, sustainability starts with the gear.
Smarter Technology
We are particularly well positioned to harness hybrid-electric propulsion technology, which could benefit a wide range of future aircraft, from novel advanced air mobility platforms to single-aisle aircraft. This technology will help optimize the performance of the propulsion system across different phases of flight, reducing fuel burn and emissions. Leveraging our close collaboration with Collins Aerospace, a world leader in aircraft electrification, we are advancing this technology across multiple innovative demonstrator programs.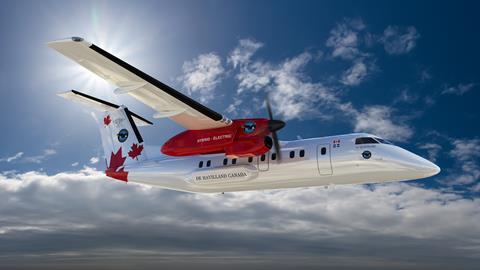 Pratt & Whitney Canada is on course to initiate ground testing of its hybrid-electric propulsion system for regional aircraft, which is targeting a 30% improvement in efficiency compared to today's most advanced turboprops. Flight testing is planned to begin in 2024, using a De Havilland Dash 8-100 experimental aircraft. Meanwhile the STEP-Tech (Scalable Turboelectric Powertrain Technology) demonstrator is developing hybrid-electric technology for distributed propulsion system in the 100-500 kW class, with the potential to scale to larger applications. STEP-Tech could be applied to advanced air mobility, high-speed eVTOL or blended wing body aircraft.
All these programs will help mature new components and technologies, which we will apply to larger scale applications, including future GTF engines for single-aisle aircraft. We recently announced plans to demonstrate a hybrid-electric GTF engine as part of a project called SWITCH (Sustainable Water-Injecting Turbofan Comprising Hybrid-Electrics), which is supported by the European Union's Clean Aviation program.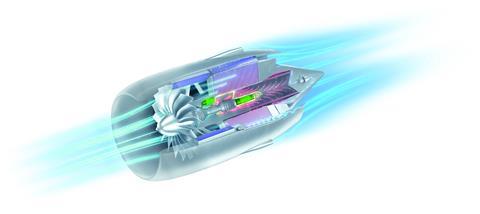 SWITCH is a collaborative effort involving Airbus, Collins Aerospace, GKN Aerospace, and MTU Aero Engines, and aims to achieve a 25% improvement in fuel efficiency for propulsion systems for short- and medium-range aircraft. The SWITCH concept synergistically combines hybrid-electric propulsion with steam injection technology, which will also enable significantly lower NOx emissions.
Cleaner Fuel
Alongside the pursuit of ever more efficient aircraft propulsion technologies, Pratt & Whitney is leading efforts to reduce aviation's dependence on fossil-based fuels by enabling the use of cleaner alternative fuels, such as sustainable aviation fuel (SAF) and hydrogen. As a "drop-in" solution for aircraft flying today and over the coming decades, SAF will be critical to help achieve the target of net-zero CO2 emissions for aviation by 2050.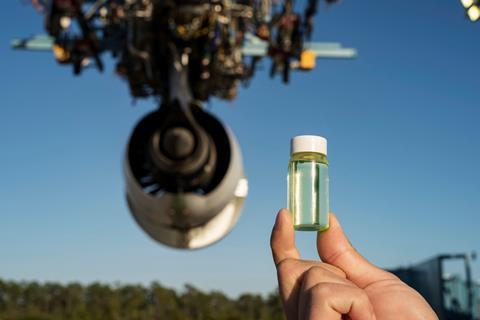 Pratt & Whitney has been closely involved in SAF testing for over a decade, and has supported industry regulators in creating the standards that allow SAF to be used today at blends of up to 50% with standard Jet A fuel. While much of our industry's immediate challenge lies with rapidly scaling up the supply of SAF – which currently accounts for less than 0.01% of jet fuel consumed globally – we are preparing our engines to be ready for a future where 100% SAF is available. This year, Pratt & Whitney supported the world's first 100% SAF-fueled regional aircraft flight, on a Braathens ATR 72 aircraft powered by PW127M engines. Our GTF engine family has also undergone numerous tests with 100% SAF, both on the ground and in the air.
Besides SAF, Pratt & Whitney is also exploring the potential of alternative, zero-carbon fuels, such as hydrogen. The HySIITE (Hydrogen Steam-Injected Intercooled Turbine Engine) project, a collaboration with the U.S. Department of Energy's ARPA-E program, aims to take full advantage of the cryogenic properties of liquid hydrogen fuel. By recovering water from the engine's exhaust stream and re-injecting this into the combustor as steam, HySIITE could be up to 35% more efficient and produce 80% less NOx than today's most efficient single aisle aircraft.
While there are many challenges associated with hydrogen, the opportunity to achieve zero emissions flight must not be dismissed. We do not regard SAF or hydrogen as an either/or decision for our industry. It will take time to develop the infrastructure to make hydrogen available at scale; SAF offers a ready route to emissions reduction in the interim.
Our industry deserves credit for taking serious steps to address the sustainability challenges we all face as part of our rapidly developing world. Through constant innovation and collaboration with industry partners around the globe, we at Pratt & Whitney are determined to deliver our vision of smarter, cleaner and greener future for aviation.

Pratt & Whitney designs, manufactures and services the world's most advanced aircraft engines and auxiliary power systems across a diverse portfolio – including Commercial Engines, Military Engines, Business Aviation, General Aviation, Regional Aviation, and Helicopters – and as a way of turning possibilities into realities for our customers.
View full Profile