Russia's federal Investigative Committee has opened a criminal probe into the serious in-flight upset incident involving an S7 Airlines Airbus A321neo.
The probe will examine the actions of the crew during the 2 December service from Magadan to Novosibirsk.
"During the climb, as the aircraft took off from Magadan airport, the crew noticed severe icing of the aircraft," the Investigative Committee's eastern interregional transport division says, adding that "speed and altitude indicators failed during the flight".
The aircraft did not return to Magadan after the event – which lasted for around 30min after the jet became airborne – but instead proceeded to head east, flying for a further 4h before landing at Irkutsk, rather than its original destination.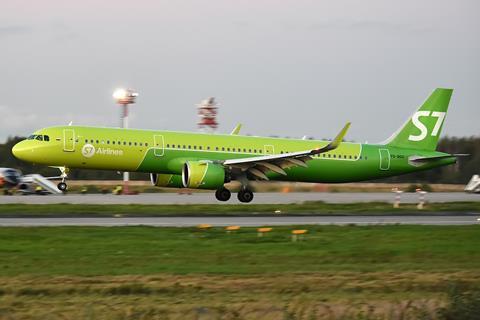 None of the passengers and crew members was injured.
Samples of de-icing fluid from Magadan airport are being sent for analysis after Russia's federal air transport regulator Rosaviatsia ordered an investigation.
Rosaviatsia says the incident is "related to the icing" of the aircraft, without elaborating.
It states that mathematical modelling of the situation will be conducted, based on data from airborne and ground sources.
Rosaviatsia says the quality of de-icing treatment at Magadan is to be assessed.
"Selected samples of the de-icing fluid used to process the aircraft have been sent for special analysis," it states.
The State Research Institute for Civil Aviation will carry out the work at an aviation fuel certification laboratory.
Research organisations will also study the weather conditions at Magadan at the time of the event.
Meteorological data from the airport at the time of the aircraft's departure indicates temperatures of minus 9°C and snow showers.
While early information is being gathered, no conclusions have been drawn over the circumstances of the event or any contributing factors.