Portuguese investigators believe a failure to control the derotation of a Delta Air Lines Boeing 757-200 resulted in a heavy nose-gear impact severe enough to buckle the fuselage.
The aircraft (N543US), arriving in the Azores from New York JFK on 18 August last year, had touched down normally with its main landing-gear on Ponta Delgada's runway 12.
Portuguese accident investigation authority GPIAAF says the first officer's piloting technique – which demonstrated "excessive corrections" of attitude and thrust, possibly in response to a variable crosswind – resulted in a heavy nose-down elevator input to derotate after the main gear contact.
This might have been exacerbated by a reduction of engine thrust during the derotation – increasing the moment around the lateral axis – and the inquiry also points out that braking can require aft control-column pressure to reduce the derotation rate.
Flight-data recordings indicate a 1.53g main-gear contact followed by a nose-gear impact of 1.88g, says GPIAAF.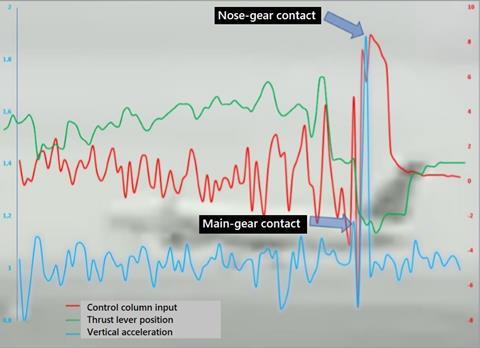 The aircraft had been operating at just 1% below its maximum landing weight of 89.8t and the inquiry believes this contributed to the extent of structural damage.
Several fuselage areas suffered deformation from compression stresses, with stringers cracking and skin wrinkling evident on the upper central and lower forward fuselage, consisted with nose-gear overload.
The flight data reveals several control column pitch movements of "increasing amplitude" in the moments before landing, says the inquiry, followed by a sharp nose-down input after main-gear touchdown and then a sudden nose-up correction after the nose-gear impact.
Boeing had previously detailed the risk of damage from hard nose-gear contacts on the 757 and 767 resulting from full or nearly-full forward control-column input after main-gear touchdown.
"Enough nose-down elevator authority exists to damage the airframe structure if the [aircraft] is rapidly derotated following main-gear touchdown," it stated in an April 2002 analysis.
"This is possible because the maximum nose-down elevator authority is designed to control go-arounds, which require considerably more longitudinal control than the landing manoeuvre."
Boeing states that the aircraft damage from such accidents is typically "significant" and results in "lengthy and expensive repairs".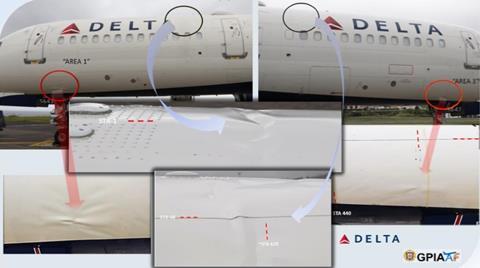 The US airframer says it first recognised that heavy loads on the nose-gear could damage the fuselage during flight-testing of the Boeing 727-200 in the 1960s.
"Flight-test data from various landings with high nose-down pitch rates led Boeing to enhance design requirements," it states. These have included optimising hydraulic flow within the nose-gear oleo strut to absorb energy and strengthening upper crown fuselage stringers.
Boeing also produced training videos to increase crew awareness of the potential for airframe damage arising from excessive derotation.
"Flight crews can accomplish [a smooth derotation] by controlling the airplane pitch rate while relaxing aft column pressure," it says, adding: "Control-column movement forward of the neutral position should not be needed."
None of the 161 passengers and seven crew members on board the Delta 757 at Ponta Delgada was injured, says GPIAAF, which published its findings into the accident on 24 April.