US Secretary of Transportation Pete Buttigieg has told lawmakers that a looming government shutdown could derail training for thousands of desperately needed air traffic controllers.
Buttigieg on 20 September said during a House of Representatives Committee on Transportation and Infrastructure hearing that a federal shutdown would halt training of 2,600 air traffic controllers as the FAA faces continued staffing shortages that have disrupted air travel in recent months.
Earlier this year, numerous airlines blamed the FAA's controller shortage for mass delays and cancellations at some of the country's busiest airports during the summer travel season.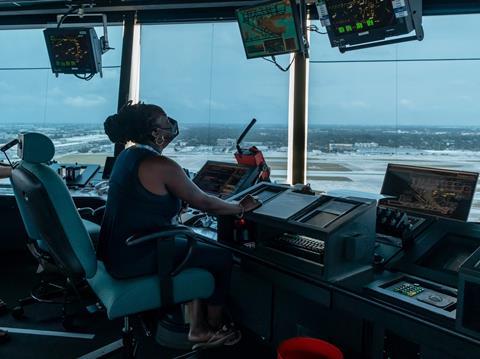 "I'm pleased to say that we hit our [hiring] target of 1,500 this year… and we have about 2,600 air traffic controllers in the pipeline," Buttigieg says. "But I would also be remiss if I didn't mention that a government shutdown would stop us in our tracks when it comes to hiring at exactly the wrong moment, while those who are qualified controllers in the tower would be permitted to continue working. It would stop training at just a moment when we're finally trending positive again, in terms of the number of people ready to take their seats."
Even a short shutdown "could set us back by months or more" due to the complexity of fully training new controllers, he adds.
"We cannot afford that kind of politically driven disruption at the very moment when we finally have those air traffic control report numbers headed in the right direction," he says.
Lawmakers have been negotiating the FAA's next reauthorisation bill, which would fund the agency for the next fiscal year, starting on 1 October. Lawmakers are also wrangling over broader government spending bills. But an impasse between the Democratic-controlled Senate and Republican-controlled House of Representatives may block that timeline. The government could face a shutdown at the end of this month if a spending package is not approved by both houses of the legislature.
Air traffic controllers have expressed concern about a possible shutdown. Controllers' union National Air Traffic Controllers Association (NATCA) says Congress is playing "political brinkmanship" and urged Congress to find a bipartisan solution before the FAA's funding runs out at the end of the fiscal year.
"Shut downs resulting from either a lapse in appropriations or expired FAA authorisation negatively affect the flying public, cause significant delays to critical programs, waste resources and taxpayer money, harm the economy and take a toll on NATCA members and their families," says union president Rich Santa. "The vast majority of our members are required to work without pay throughout the duration of a shutdown, including mandatory overtime, while others are furloughed."
NATCA says the FAA is facing "many challenges", including the well-documented staffing shortage, numerous serious safety incidents and the lack of a confirmed administrator. It adds that a government shutdown would be "extremely harmful" to the national airspace system and cause "disruptions to long-term infrastructure and technology programmes".
Other interest groups are also concerned. The US Travel Association said on 20 September that a government shudown "threatens a stop of training and hiring for ATC, certification for new aircrafts, collection of aviation taxes and numerous other air travel processes. Congress must prioritise extending FAA authorisation before the agency's end-of-month termination".
Just last week, the FAA extended slot relief rules at busy airports in the Northeast USA through the end of next year's summer travel season due to continued air traffic control staffing shortages.
FAA has said that it is unable to adequately staff air traffic control centres that oversee busy airspace covering the New York City metropolitan area. It told airlines operating at New York-area airports and at the Washington, DC-region's Ronald Reagan Washington National airport that they could leave up to 10% of assigned slots unused due to staffing bottlenecks at ATC facilities.
The extension through October 2024 was an admission that the FAA will be unable to solve those bottlenecks for at least another year.
Some airlines did reduce schedules from affected airports this summer, and operated larger aircraft on some routes. But a series of intense storms still caused major issues for numerous airlines across the region during the prime summer travel period.