Swiss investigators believe they have sufficient evidence to explain the accident sequence which resulted in the fatal crash of a Junkers Ju 52 during a pleasure flight in the Alps two years ago.
The aircraft had entered a valley basin near Piz Segnas, entering a left turn at the northern end which then developed into a downward spiral and subsequently a near-vertical dive into the ground.
None of the 20 occupants survived.
No flight recorders were fitted to the aircraft. While wreckage inspection has helped understand certain technical details, Swiss investigation authority SUST has had to gather data from several other sources to reconstruct the 4 August 2018 flight.
While a number of mobile phones and video cameras of the passengers and crew were badly damaged, the inquiry retrieved 44 pieces of media data of which eight could be read. Ground witnesses have also contributed photographs and video.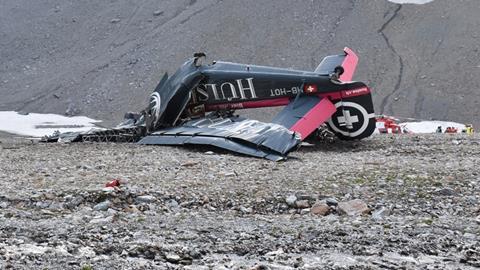 Photogrammetric assessment of this information has been used to determine the spatial position, speed and attitude of the aircraft in all three axes, and much of the Ju 52's track has been calculated with the support of radar data.
"An analysis of the audio tracks from the available video recordings made it possible to determine the rotational speed of the engines and to assess their operation during the accident," adds the inquiry.
Investigators have simulated the wind patterns in the vicinity using meteorological modelling, with the assistance of 3D flow measurements from a lidar instrument, as well as wind, temperature, pressure and humidity data from a weather station on a ridge of the nearby Segnas Pass.
"This measurement enabled the [inquiry] to reconstruct the wind conditions on the day of the accident in the valley basin, south-west of Piz Segnas, to such a degree that it could assess their likely effect on the [Ju 52]," adds the inquiry.
Operator Ju-Air had not used flight-data monitoring for its services, so the investigators gathered four months of radar information – covering flights back to 6 April – supported by photographs, video, and testimony to assess the carrier's flight operations in the mountainous regions.
All the information collected and analysed throughout the investigation "serve to reliably explain the sequence of events" and also detail the "systemic background which allowed the accident to develop", the inquiry states.
SUST has compiled a draft of the final inquiry report and is preparing to evaluate feedback from interested parties. It expects to publish its findings before the end of this year.