Russian investigators have disclosed that an Azimuth Sukhoi Superjet 100 captain inadvertently deployed the landing-gear in cruise, prompting a climb response which placed the twinjet in conflict with another aircraft.
In a 9 November bulletin the federal air transport regulator Rosaviatsia has detailed the 21 October incident, involving a flight operated by Azimuth from Sochi to Bryansk.
It states that the jet (RA-89120) was cruising at 34,000ft under the control of Rostov air navigation services.
The crew had received alerts over the loss of satellite navigation system signals, and the captain was attempting to delete the messages from the engine and warning display.
But while trying to remove the messages the captain erroneously pressed a button for emergency deployment of the landing-gear.
The undercarriage extended while the aircraft was travelling at 270kt, compared with the normal limit of 255kt.
Rosaviatsia says this resulted in an "additional threat to flight safety" because the autopilot was active and the aircraft entered a climb, deviating from its assigned altitude and reaching 35,000ft.
This put the aircraft into conflict with another on an intersecting track.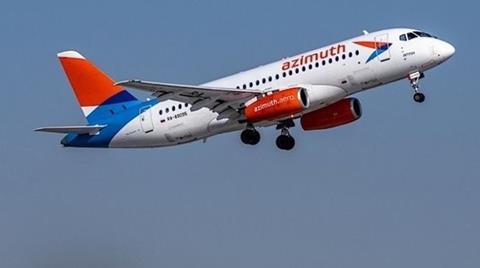 Investigation into the incident found that the captain intended to use an 'alert cancel' button located near the brake controls instead of a different message-control button on the centre console.
After the landing-gear was deployed the crew opted to carry out an emergency landing at Azimuth's base, Rostov-on-Don's Platov airport.
"The aircraft was not damaged as a result of the incident," says Rosaviatsia.
Unintentional activation of controls, it says, has previously led to such events as engine shutdown, retraction of landing-gear during touchdown, and retraction of flaps instead of the landing-gear after take-off.
Rosaviatsia attributes these events to circumstances including deviation from standard operating procedures, lack of communication and cross-checking between the crew, cockpit ergonomics, and "sloppiness, inattention, distraction and haste".