ST Engineering's aerospace unit is looking to up its sustainability efforts in its operations.
The head of ST Engineering's aerospace unit Lim Serh Ghee acknowledges that the company "has a part to play" in sustainability, being part of the larger aviation community.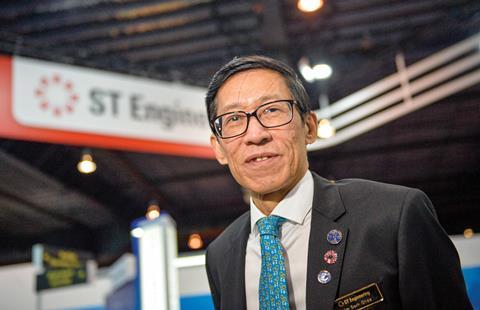 "We are looking into that area…from the back-end [side of things]. How can we…when the aircraft is in maintenance…cut down some of the carbon emissions?" Lim says.
On sustainability, Lim says the company is also looking to leverage technology – another area of focus in its long-term strategy – to "build a portfolio for a sustainable future".
One example Lim cites is additive printing of cabin interior parts. "We are trying to build a portfolio of commonly-damaged cabin interior parts. [We have] a digital file of the designs, but we don't print it until it is needed – it is a virtual inventory," he says.
That way, when platforms are retired, "[we] won't have a large inventory of parts that we throw away", Lim adds.
Lim is also "cautiously optimistic" about long-term prospects for the aerospace unit. He stresses that "ours is never a knee-jerk type of reaction".
"We have our long-term plan [in place] and we are tracking our plan and progressing very well," Lim adds. For one, it is on track with the integration of GE's nacelle manufacturing unit Middle River Aircraft Systems (MRAS) into its operations.
ST Engineering also recently broadened its footprint into Vietnam, recently announcing an airframe MRO joint venture with Vietnam Airlines.
"We will continue to put effort and attention on technology to innovate our business. We will continue to go into data analytics, automation, additive manufacturing," says Lim, who stresses that the use of technology has to also "create and add value for our customers".
Lim acknowledges that the ongoing coronavirus outbreak, which has mostly affected China and other Asian countries, will be a challenge for the industry.
"There will [definitely] be short term impact on the aviation industry…but I am confident it will rebound quickly," Lim says.
Asked to elaborate what knock-on effect it would have on ST Engineering's aerospace business, Lim says that with airlines cancelling their flights, their aircraft and engines might be utilised less, which presents fewer business opportunities.
But Lim was quickly points out: "But you can also see the opportunity in that. You might see that some of the carriers will send in more aircraft for maintenance, for instance."
Lim is optimistic about prospects: the virus outbreak might affect the industry in Asia, but because ST Engineering "has diversity in geographical [presence] and across capabilities", it will be able to weather the storm.
"ST Engineering has the kind of resilience and we will be able to ride this out better than anybody else…and come out stronger," he adds.