Chief executives of JetBlue, KLM and Lufthansa Group have insisted that corporate travel will rebound once passengers feel comfortable flying again.
"Business travel will take longer to come back, but it will come back in a big way", JetBlue chief executive Robin Hayes told the closing press conference of IATA's AGM.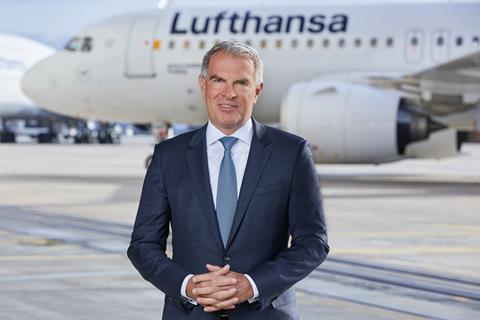 However he concedes that the corporate travel market may function "in different ways" post-pandemic. He cites the potential demand from work-from-home employees who meet occasionally for corporate events or get-togethers. "The way I think about this is that [business travel] may well change, but… we all will be pleasantly surprised how quickly this industry can come back."
Carsten Spohr, chief executive of Lufthansa Group, bemoaned the use of video call technology as lacking the same benefits of in-person meeting.
"In the first months of this crisis we were all getting excited about video conferences… in the last weeks I hear about people being tired of video conferences," he comments. "I think we have experienced the limits of technology."
Comparing this year's virtual IATA AGM with last year's in-person event, he complains that the technology's limitations meant that it "did not compare", restricting the number of new people he was able to meet and the breadth of interaction between delegates. "Let's be honest, this technology is better than maybe we all knew before [the pandemic], but it's nowhere good as what airlines provide".
KLM chief executive Peter Elbers concurs with the sentiment, highlighting that corporate travellers still desired to meet clients and contacts in person, although corporate travel patterns may change.
Earlier in the day, IATA chief economist Brian Pearce highlighted that from speaking to corporate travel companies, most major business were not planning on allowing their employees to fly again "very quickly".
While there is evidence of pent-up demand for leisure travel and for visiting friends and family, "I think business travel will be slower to recover", Pearce notes, adding: "[Airline] yields will be much lower without business travel – that is typically a higher-yielding market".