Panama's Copa Airlines posted a fourth quarter loss of $169 million as it was only able to operate 27% of the capacity it had operated in the same quarter a year prior, due to coronavirus-related travel restrictions.
For the full year, the Panama City-based carrier says on 10 February that it posted a loss of $599 million, compared to a $247 million profit in 2019.
Revenue for the quarter was $159 million, down almost 77% from the same period a year earlier. Full-year revenue fell 70% to $801 million from $2.7 billion in 2019.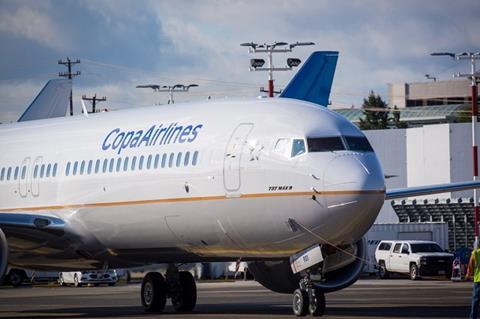 In the fourth quarter, following the ungrounding of the Boeing 737 Max after a 20-month grounding in November, Copa took delivery of one aircraft of the type, bringing its Max fleet to seven. In January and early February, it took three more 737 Max and says it will take delivery of three more by the end of the first quarter.
The airline returned the type to its schedule in late December, when it became the first carrier to operate it on an international flight following the grounding.
Situated directly between the continents of North and South America, Copa's home base of Panama City is ideally situated to connect destinations on both continents, and the airline has said in the past that the new 737 type will be integral to its expansion ambitions.
Copa says in the fourth quarter it completed the delivery to a third party of five of its 14 Embraer 190 aircraft that it had planned to sell in order to simplify its fleet, and one more in early 2021. Copa has said it aims to be rid of all its Embraer aircraft by June 2021. It will then be an all-737 operator.
The carrier ended 2019 with a total fleet of 75 aircraft, compared to 102 at the end of 2019.
Copa will hold an analyst call on 11 February to discuss more details of its fourth quarter results.