Delta Air Lines' profit surged in 2022 to $1.3 billion, up significantly year-on-year but still depressed from the Atlanta-based carrier's profit in pre-pandemic 2019.
The airline released its 2022 financial results on 13 January, becoming the first US airline to do so and providing insight into how the US airline industry closed a year broadly characterised by constrained capacity, strained operations and expensive fuel.
Delta says its results reflect an environment in which "consumer demand remains robust".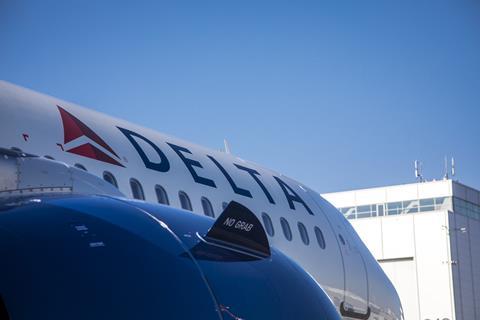 "We made significant progress restoring our financial foundation in 2022 with positive free-cash-flow generation and three quarters of double-digit margins," says Delta chief financial officer Dan Janki.
The airline anticipates its momentum will continue in 2023, with revenue expected to jump 15-20% year-on-year. "In 2023, we are confident in completing our network rebuild and delivering the benefits of scale and efficiency," Janki adds.
Delta's $1.3 billion 2022 profit compares to a $280 million profit in 2021 – a year during which the Omicron variant of the Covid-19 virus hammered demand for travel by air.
Still, Delta's bottom line last year remained significantly depressed from the $4.8 billion profit it turned in 2019. The airline's capacity (measured in available seat miles) has also yet to fully rebound, with the 2022 figure being 15% lower than in 2019.
Though profits still lag, Delta's operating revenue has fully recovered, hitting $50.6 billion in 2022, 8% more than in 2019 and up 69% year on year.
But rampant cost acceleration offset those gains. Delta reports that its operational expenses hit $46.9 billion in 2022, a 16% bump from 2019 and 67% more than in 2021.
Notably, the carrier's fuel expenses doubled year on year, to $11.5 billion in 2022.
Delta also says business travel – measured in sales to corporate customers – has yet to recover, sitting at 80% of the 2019 benchmark in December.
The carrier's 2022 performance reflects a fourth quarter during which it turned a $828 million profit, reversing a $408 million loss in the same period of 2021.