Copa Holdings, the parent of Panama's Copa Airlines reported a profit of $122 million, up more than one-third from the same quarter in pre-pandemic 2019, driven by "healthy demand".
The Panama City-headquartered carrier said on 10 May that total revenue during the first three months of the year was $867 million, up 29% from the $672 million reported in the first quarter of 2019.
"Copa Holdings delivered solid financial results for the first quarter of 2023," the company says. "The company's results were driven by a healthy demand environment in the region, which led to strong unit revenues in the quarter, and by its consistent cost execution strategy."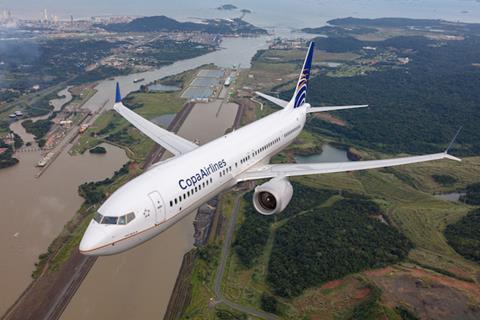 But while revenue rose, the airline's expenses also increased by 20.5% to $674 million. Of that, jet fuel totalled $266 million, up 56% compared to the same period in 2019, due to a 61.4% higher effective fuel price, and partially offset by 3.7% fewer gallons consumed.
Capacity as measured in available seat miles (ASMs) rose 2.8% to 6.6 billion, from 6.4 billion in the first quarter of 2019, while load factor rose to 86.8%, up 3.5 percentage points over the same period in 2019.
Copa took delivery of two Boeing 737 Max 9 aircraft during the first three months of the year, ending the period with 99 aircraft: 67 Boeing 737-800s, 22 737 Max 9s, nine 737-700s, and one 737-800 freighter, compared to a fleet of 102 aircraft prior to the global Covid-19 pandemic.
Copa will hold an analyst call on 11 May to give more details about its first-quarter earnings results.